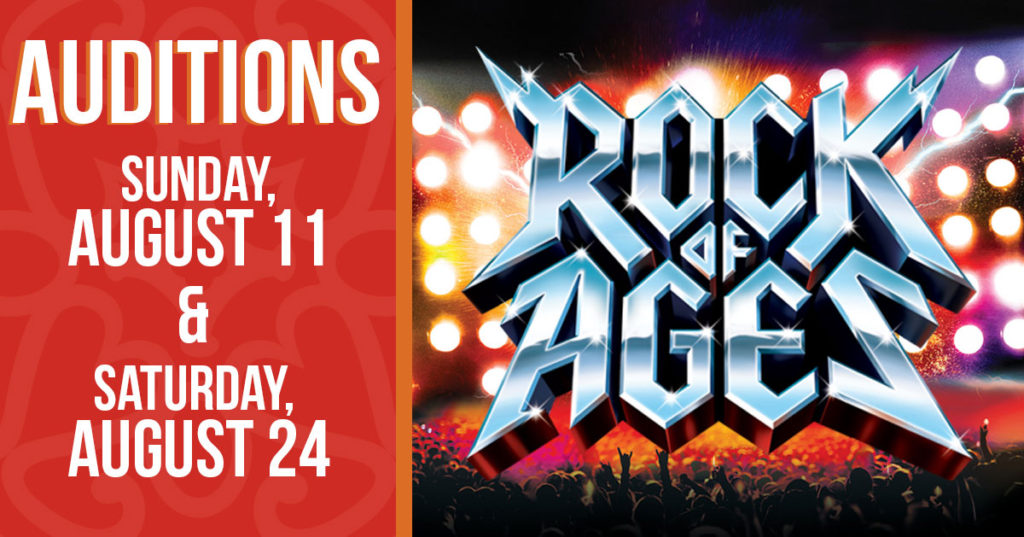 Auditions for Rock of Ages will take place on:
Sunday, August 11 from 6-9 p.m.
Saturday, August 24 from 11 a.m. to 1:30 p.m. (Note: Auditions for Elf will also be taking place on this day.)
Because this is a rock musical and not classic musical theater, songs from the show or songs in the style of the show are recommended. Auditioners must be 18 or older.

---
Creative Team
Director: Mark DiPietro
Music Director: Dave Rains
Choreographer: Jessica Adams
---
Available Roles
Drew: An appealing, good-guy rocker with great, easy comedic timing, a boyish charm, vulnerability and a very strong rock tenor voice. Drew works at the legendary Bourbon Room hoping and waiting for his dreams to come true. (Vocal Range: Bb3-D5)
Sherrie: A fresh faced, innocent Midwestern girl stepping right off the bus into a new world to pursue her dreams of stardom. Strong comedic timing, strong rock belt, good movement ability. (Vocal Range: G3-F5)
Lonny: The narrator of the piece, charming, mischievous, welcoming, vibrant personality, a guy who would be fun to spend one drunken night with. Strong, honest comedic timing/improv skills and strong rock vocals. (Vocal Range: D3-D5)
Dennis Dupree: Classic stoner type guy who runs the famous Bourbon Room club. Torn about whether he should sell the club. Very strong comedic timing. A laid back, easy going dude real dude. Bari-tenor rock vocals. (Vocal Range: D3-G4)
Stacie Jaxx: A sexy rock star. Decided to leave his successful hair/metal-rock band to try it solo. Self-important, confident intriguing in all the wrong ways, the ultimate bad boy. Great strong comedic timing and strong rock tenor voice. (Vocal Range: C3-Eb5)
Justice: Female, strong presence, an easy sensuality about her, once a performer, she now operates a strip club where Sherrie winds up working. Takes on the maternal role for the girls that work for her. Strong, soulful vocals and belt needed. (Vocal Range: G3-Db5)
Hertz Klinemann: An attractive older German male. Uptight, cold, intimidating businessman trying to buy up the Strip to develop it. The bad guy of the piece. Strong comedic timing and baritone vocals. German accent. (Vocal Range: F3-G#4)
Franz: Hertz's son. Works for his father but not by choice. Pressured and intimidated by his father. Shy, gentle with a big heart. Strong vocals and comedic timing. German accent (Vocal Range: Db3-E5)
Regina: A fun, hippie type, in shape, earthy girl who fights against the attempted takeover of The Strip. Strong comedic timing, belt vocals. – A crunchy granola type hilarious tree-hugging fighter who will stop at nothing to protect The Strip. (Vocal Range: A3-Eb5)
Featured ensemble roles: Father, Mother, Mayor, Waitress #1, Ja'Keith, Joey Primo, Constance, Candi, Sleazy Producer, Venus Club Dancers
---
Plot Summary
Rock of Ages takes you back to the times of big bands with big egos playing big guitar solos and sporting even bigger hair! This Tony Award-nominated Broadway musical features the hits of bands including Night Ranger, REO Speedwagon, Pat Benatar, Twisted Sister, and others.
It's the tail end of the big, bad 1980s in Hollywood, and the party has been raging hard. Aqua Net, Lycra, lace, and liquor flow freely at one of the Sunset Strips last legendary venues, a place where sex machine Stacee Jaxx takes the stage and scantily clad groupies line up to turn their fantasies into reality. Amidst the madness, aspiring rock star (and resident toilet cleaner) Drew longs to take the stage as the next big thing (and longs for small-town girl Sherri, fresh off the bus from Kansas with stars in her eyes). But the rock and roll fairy-tale is about to end when German developers sweep into town with plans to turn the fabled Strip into just another capitalist strip mall. Can Drew, Sherri, and the gang save the strip–and themselves–before it's too late? Only the music of hit bands Styx, Journey, Bon Jovi, Whitesnake, and more hold the answer.