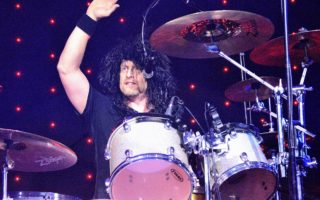 When the Croswell Opera House hosts The Rock Show Band's tribute to the band Journey this weekend, it will also be a homecoming for the band's drummer.
Chris Bartnikowski is a 1994 graduate of Adrian College. He's been playing with the band's lead singer, who goes by Tommy K., for 12 years, and the band has been in its current form for six.
"Tommy has always been known as the guy who sounds like Steve Perry," Bartnikowski said. So adding a Journey tribute to the band's lineup of shows made sense, and it's become one of their most popular shows.
"It's really taken off in the last couple of years," he said. "We're very, very fortunate."
Bartikowski, who is originally from Toledo, played baseball at Adrian College and was a member of the Bulldogs' first MIAA championship team in 1993. During the week, he is the aquatics manager for Zehnder's Splash Village in Frankenmuth; on weekends, he travels with the band as far away as New York and Las Vegas.
"We play 40 to 42 weekends a year and we travel all over the country," he said.
The band is known for going the extra mile in its tribute acts.
"Everything is in costume," Bartnikowski said. "We're a very big visual band as well as playing our instruments."
Bartnikowski stays in touch with Adrian College baseball coach Craig Rainey, and he's been back on campus to watch a few games. In addition, this will be the band's third concert at the Croswell.
"We always love coming back," he said. "It's such a great venue. It's an absolutely beautiful facility inside, and it sounds great."
He's also looking forward to seeing some familiar faces.
"It's always great coming to Adrian, because I still have a bunch of friends living there and they always come out and support us," he said.
The Rock Show Band's Ultimate Tribute to Journey hits the Croswell stage at 7:30 p.m. Saturday, April 23. Tickets are $25 on the main floor and $20 in the balcony.
Tickets may be ordered here or by calling 517-264-7469.