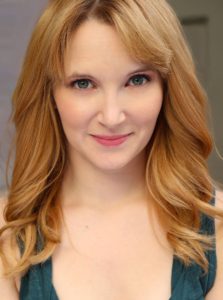 In the decade and a half since she last performed at the Croswell Opera House, Cassie Okenka has appeared on an MTV reality show, toured nationally in "The Wizard of Oz" and "Wicked," and landed roles in two Broadway shows.
Now she's returning to the theater where she acted as a teenager to share stories from her career in a one-night cabaret performance.
Okenka's cabaret will take place at 7 p.m. Thursday, April 19, in the Croswell's new studio theater. Tickets are not required, but a $20 donation at the door is suggested.
As a teenager, Okenka appeared in the Croswell's productions of "George M!" in 2002, "Kiss Me Kate" in 2003, and "Big River" in 2004. A Toledo native, she studied musical theater at the Baldwin Wallace Conservatory of Music, graduating in 2008.
The summer after graduating from Baldwin Wallace, Okenka was a contestant on MTV's "Legally Blonde the Musical: The Search for Elle Woods." In that show, actresses from across the country competed to replace Laura Bell Bundy, who originated the lead role in the Broadway production of "Legally Blonde."
Though she didn't win that competition, it wasn't long before Okenka landed her first national touring role, starring as Dorothy in "The Wizard of Oz." Then, in 2011, she made her Broadway debut in the cast of the musical "Bonnie and Clyde."
After "Bonnie and Clyde" closed, she signed on with the national tour of "Wicked," understudying the roles of Glinda and Nessarose. And for the past two years, she has been part of the Broadway cast of "School of Rock."
During her cabaret on Thursday, Okenka will share stories from her time on Broadway and on the road, in addition to singing some of her favorite showtunes.
The cabaret is part of the Croswell's "A Life in the Arts" speaker series, which highlights Croswell alumni who are now working professionally in theater. The series previously featured Heather Yerrick, wardrobe supervisor for the Chicago production of "Hamilton," and Tobin Ost, who was nominated for a Tony Award for his scenic design on "Newsies."