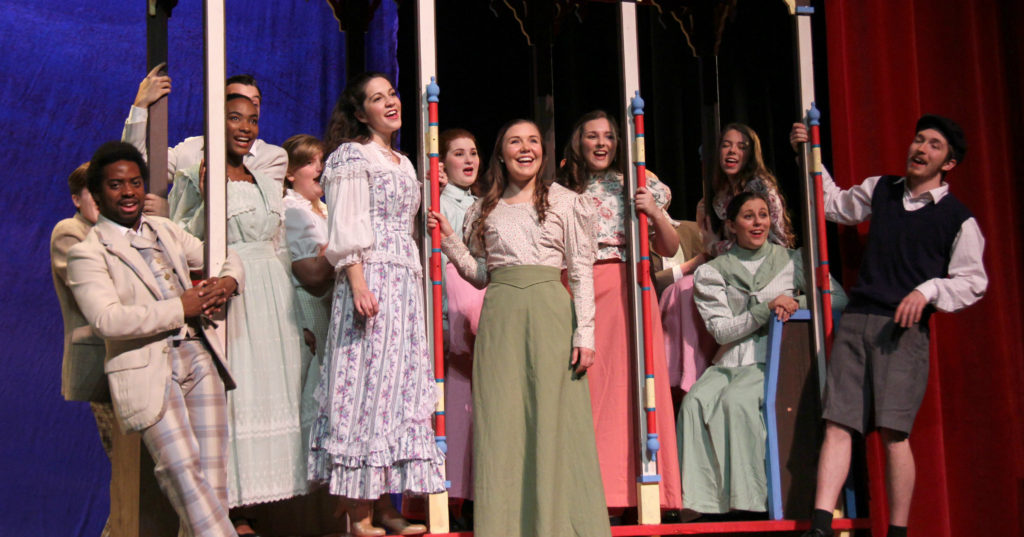 A beloved classic of American cinema will come to the stage in Adrian when the Croswell Opera House presents "Meet Me in St. Louis," opening Thanksgiving weekend.
"Meet Me in St. Louis" is a story about the lives and loves of a turn-of-the-century American family on the eve of the 1904 World's Fair. The musical was adapted for Broadway in 1989 and was nominated for four Tony Awards.
"It's a fun, wholesome story full of songs you know and love," said Jere Righter, the Croswell's artistic director. "It's a perfect show for the holidays because it's all about family. The characters are so real and so charming — people are just going to love it."
The show is directed by Matthew Bowland, with choreography by Brian Rodabaugh. Wynne Marsh is the music director, leading a 21-piece live orchestra through well-known tunes like "Skip to My Lou," "The Trolley Song," and "Have Yourself a Merry Little Christmas."
"Meet Me in St. Louis" features Sarah Hodgman of Tecumseh as Esther, the role made famous by Judy Garland in the original movie. Crosby Slupe of Adrian plays her Princeton-bound brother, Lon. Older sister Rose is played by Lisa Schrock-Ohlinger of Adrian, and younger sisters Agnes and Tootie are played by Abby Knight of Adrian and Wynter Osstifin of Tecumseh.
The parents, Alonso and Anna Smith, are played by Karl Kasischke of Ann Arbor and Alisa Mutchler Bauer of Chelsea. Justin Bays of Toledo plays John Truitt, the "boy next door" who becomes Esther's love interest.
Filling out the 23-person cast are A.J. Howard, Alexandra June, Justin Kohlruss, Kane Rada, Lylah Slupe, Tyaira Smith Adamson and Ja'Vaughn White, all of Adrian; Mary Rumman of Milan, Ashley Simon of Monroe; Halle Bauer and Ashlyn Slaviero of Onsted; Cordell Smith of Riga; and Kyle Haeussler, Alex Lane and George Reasoner, all of Tecumseh.
"Meet Me in St. Louis" opens Saturday, Nov. 25, and runs for three weekends. Friday and Saturday shows are at 7:30 p.m., and Sunday shows are at 2:30 p.m. Tickets range from $15 to $35.
The Croswell Opera House is at 129 E. Maumee St., Adrian. More information is available at croswell.org.