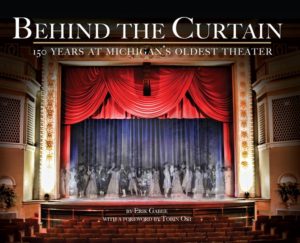 The story of the Croswell Opera House's first 150 years is told in a new book, "Behind the Curtain: 150 Years at Michigan's Oldest Theater."
The 246-page book, written by Croswell director of marketing and audience development Erik Gable, includes more than 300 photos and illustrations, many of them never before published. In addition to material from the Croswell archives and the local history collections at the Adrian District Library and Lenawee County Historical Museum, it includes information drawn from archives in Ann Arbor, Detroit and Lansing.
It begins with the story of the Croswell's construction in post-Civil War Adrian and includes stories about the local groups and touring companies that performed on its stage in the early days. In addition, readers will learn about the many other roles the theater has played — including becoming a roller rink for one week in 1876 and serving as a hospital after the Lenawee County Fair grandstand collapsed in 1879.
The book then discusses the Croswell's days as a movie theater, including how patrons raised more than $1 million to support the war effort during World War II, before moving into the modern era. The story of how the Croswell was saved from likely destruction in the 1960s is accompanied by photos from many of the theater's productions over the past 50 years.
The book also includes a foreword by Tobin Ost, a Tony Award-nominated scenic designer who grew up in Adrian and got his start designing shows at the Croswell.
"Behind the Curtain: 150 Years at Michigan's Oldest Theater" sells for $42 and may be purchased at the Croswell's business office, 123 E. Maumee St., Adrian, or online at croswell.org/book.