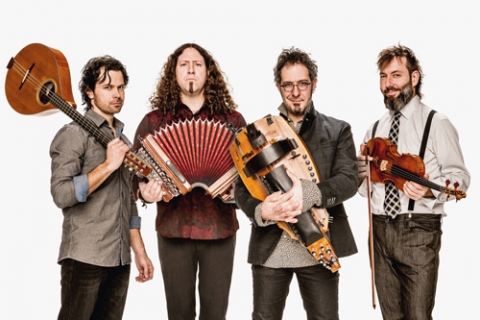 Merging traditional Quebecois tunes with high-energy progressive folk, Le Vent du Nord has won critical acclaim across North America and Europe. The band will visit Adrian this month as part of the Arts Midwest World Fest.
Le Vent du Nord will perform at 7:30 p.m. Friday, April 21, at the Madison High School Performing Arts Center, 3498 Treat Highway, Adrian. The group is being hosted by the Croswell Opera House, but will perform at the school because the 151-year-old theater is currently finishing extensive renovations.
Arts Midwest World Fest, which is organized by an alliance of nine state arts councils across the upper Midwest, aims to bring high-quality international musicians to small communities like Adrian. The Croswell is the Michigan host site for Arts Midwest World Fest's 2015-17 cycle. Previous performers came from Turkey, Israel, and Inner Mongolia.
The group will spend a week in Adrian, conducting educational workshops at schools and other venues, before their show on April 21.
For more information or to purchase tickets, go to croswell.org/leventdunord or call 517-264-7469.