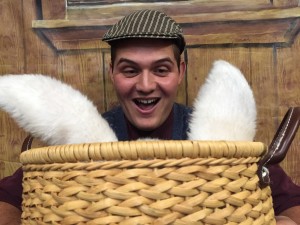 A classic children's book will come to life on stage when a touring production of "The Velveteen Rabbit" visits the Croswell Opera House.
The show will take place at 11 a.m. Saturday, Oct. 17, with a preshow craft activity beginning at 10 a.m.
"The Velveteen Rabbit" is a stage adaptation of the book by Margery Williams, which tells the story of a stuffed rabbit who wants to become real. The story celebrates unconditional love and real beauty with a strong anti-bullying message.
The play is presented by Bright Star Touring Theatre, a national company based in North Carolina that last visited the Croswell in February with "Rosa Parks and Forgotten Friends."
Croswell artistic director Jere Righter said Bright Star's productions offer something for people of every age.
"The show is geared toward younger children, but this is a story that everyone can enjoy," she said. "Bright Star's shows are always very well-done and a great learning experience."
"The Velveteen Rabbit" is the first installment in the Croswell's 2015-16 Spectacular Saturday Series. Upcoming events include a showing of the movie "Frozen" on Nov. 7 and an educational play based on the life of baseball player Jackie Robinson on Feb. 27.
To see a complete list of the Croswell's upcoming shows for children and families, go to croswell.org/families.
Admission to "The Velveteen Rabbit" is $5 per person. To purchase tickets or for more information, call 517-264-7469 or go to croswell.org/velveteenrabbit.