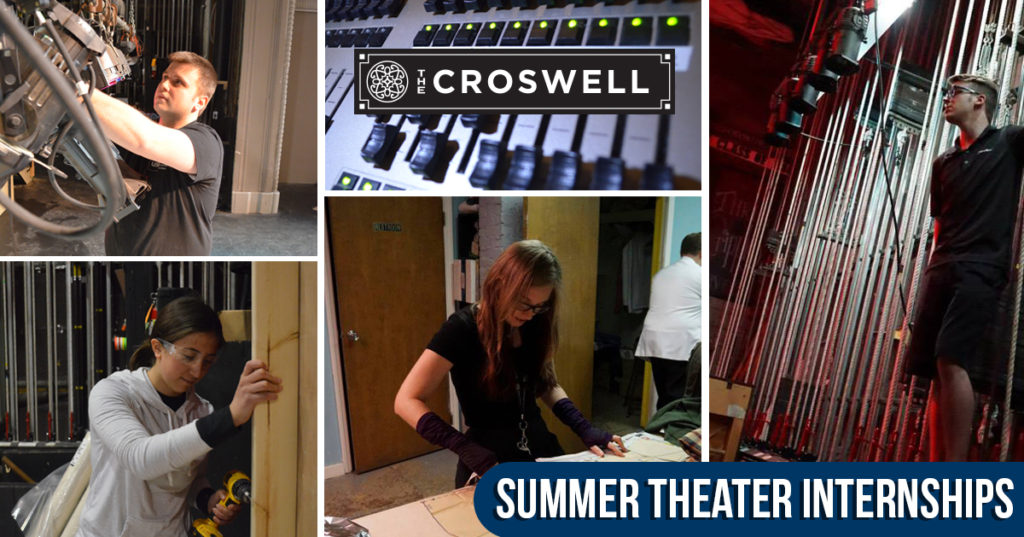 The Croswell Opera House in Adrian, Michigan, is now accepting applications for Summer 2020 internships.
Interns will work 13 weeks, from May to August, and will be a crucial part of this summer's productions of Kinky Boots, The Scottsboro Boys, and Holiday Inn, as well as doing some work on our September production of The Little Mermaid.  Exact starting and ending dates are flexible. These are full-time, paid positions. The salary is $350 per week. Housing may be available; please ask for details. Some evening hours will be required, and all interns will be expected to work on production weekends.
Croswell interns are considered full members of the team and have the opportunity to work alongside professional directors, designers and other members of the creative staff. We offer a professional and fast-paced, yet fun, friendly and supportive environment.
---
About the positions
Costume shop intern: This person will build and alter costumes, style hair and wigs, attend some rehearsals, and serve as run crew during performances. Strong sewing skills are mandatory, as our costume team produces a large number of costumes in a very short time. Fitting, cutting, draping and tailoring skills are also required.
Technical interns: Responsibilities will cover a wide range of technical theater disciplines, with an emphasis on carpentry. Interns may also work in lighting and sound, and will serve as run crew during performances.
Properties interns: These interns will use a variety of media to design and build props for the summer's shows and will also serve on the run crew for performances. Responsibilities will include puppet building, so experience in that area is helpful.
---
Application requirements
Applicants must either be enrolled in college as of fall 2020 or have graduated no earlier than December 2019, and must also be 18 years old as of the internship's start date. For the backstage positions, students who are focused on careers in technical theater are preferred.
To apply, please send a cover letter, resume and at least three references to Steve Krause, business manager, at skrause@croswell.org. Online portfolios are helpful. Applications must be received by February 7. Positions will be filled by mid-March.
---
Why the Croswell?
The Croswell Opera House takes pride in offering professional-quality experiences in a collaborative community theater setting. Many Croswell alumni have gone on to become accomplished  theater professionals, including Tony Award-nominated scenic designer Tobin Ost; Matt Lacey, stage manager for several Broadway shows; and Heather Yerrick, currently working on the San Francisco production of Harry Potter and the Cursed Child and former wardrobe supervisor for the Chicago production of Hamilton. The Croswell is newly renovated, seats about 640 people, and is the oldest theater in Michigan, in continuous operation since 1866.
For more information about Croswell internships, please email skrause@croswell.org or call 517-263-6868. To learn more about the Croswell Opera House, visit our website at croswell.org or follow us on Facebook or Twitter.