Making the Croswell a part of your estate planning does more than just help your community … it also can have huge financial benefits for both you and your family!
By including the Croswell in your long-term financial plans, you can make a positive impact on people's lives for many generations to come.
To learn more about planned giving opportunities at the Croswell, please contact Kyrie Crist at 517-263-6868 or [email protected].
Your legacy, your way
Click each type of giving to expand and learn more!
Life insurance as a designated gift
Charitable remainder trust
Charitable remainder annuity trust
Member benefits
We invite you to become a distinguished member of the Croswell's 1866 Society by including the Croswell as a beneficiary in your estate planning.
Your gift creates a lasting legacy that will changes lives for years to come by
supporting the Croswell's mission. More immediately, member benefits include:
Invitation to the annual Perk Party
Communication and updates about important estate and tax planning
information
Recognition in the Croswell building
Listing in the Croswell's playbill & on our website (donors may also remain anonymous)
Assurance that your gift will create and sustain the Croswell for
decades to come
Your planned gift can also reduce your estate and income taxes while
providing you with future income
Why join the 1866 Society?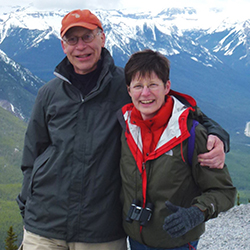 Pi Benio & Mike Jacobitz
We have lived in Adrian for most of our adult lives, and when we started to think about what we want our legacy to be, the Croswell was the first thought on our minds. It's a point of pride not just for the community, but for us personally. It's the place we show off when friends visit from out of town, and it's the place we go when we want to be surrounded by fun, friendship and creativity.
We believe in art as a game-changer. It doesn't just change people's lives; it shapes the community and moves us forward. We know from our time working with students that the Croswell is the cornerstone of downtown and it's the nexus for art in our community. It has withstood a lot of ups and downs, and we know it's going to last … and we want its future to be part of our legacy.
We are both firm believers in the power of art to transform everything it touches.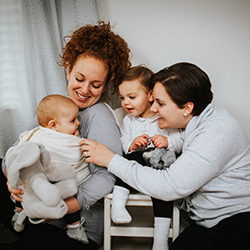 Allison & Brittanie Kuhr
To quote The Wizard of Oz, "A heart is not judged by how much you love, but by how much you are loved by others." If that's true, then the heart of the Croswell must be immeasurable! The amount of love we have seen poured into this historic space is remarkable.
At the Croswell, both of us found a truly inclusive community where we could be ourselves. This theater has been a part of our lives for nearly a decade. We even got engaged on the Croswell stage! Aside from our love of theater, there's one thing that keeps bringing us back here: the family atmosphere. We love being part of this place where friends, spouses, siblings, and parents and children can enjoy sharing the stage together. (Our own daughter made her stage debut in The Wizard of Oz at just 9 months old!) Now that we have children of our own, we hope our love of the performing arts will spread to the next generation.
When we worked on our estate plans to include our two young children, we wanted to be sure we were also preserving and protecting our other love: the Croswell. You're never too young to think about planned giving, and while we hope our gift isn't realized for many years to come, we want to show our long-term commitment to the Croswell. We want to ensure that there is a place for our children and grandchildren to learn about, appreciate, and participate in the performing arts. Throughout history, the theater has been a critical part of our culture — providing a respite from everyday life, telling the story of history, and addressing difficult conversations. Now, more than ever, we need a place for children of all ages to safely tell and hear these stories.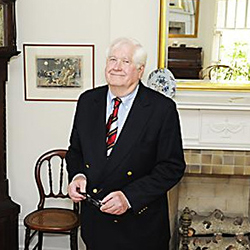 Mike Watts
It was more than 50 years ago that Charlie Hickman stepped up and made it possible for the Croswell to continue serving our community, and it was my privilege to have been involved from the very beginning. That first year, Gaylord Baker, Catherine Smith and I spent many hours sitting at my kitchen table with a phone book and a stack of index cards. Then we got on the phone and called community members one by one, asking them to help the Croswell's new theater program get off the ground. Through those phone calls we learned just how much Lenawee County loved this theater!
I am proud that the Croswell has continued to grow despite all of the obstacles it has faced over the years. Seeing where it has been and how far it has come, I couldn't be more proud. The Croswell is in the hands of a group of individuals who truly believe in the future and longevity of the organization. Just as Charlie, Gaylord, Catherine and I asked friends to support the Croswell then, I hope you will consider joining me as a member of the 1866 Society.
1866 Society members
Anonymous
Frank & Shirley Dick
Reide Garnett
Mike Jacobitz & Pi Benio
Denis & Carol Jodis
Stephen Kiersey
Allison & Brittanie Kuhr
Richard & Renee Merchant
Robert E. Price
Emory & Kris Schmidt
Charles & Marianne Steffens
Prosser M. Watts
Karen & James Wimple