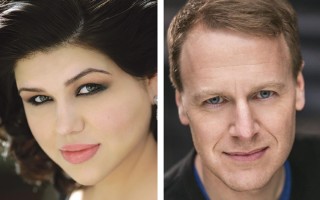 We're proud of all our alumni, and tonight we have a double-whammy of events — two Croswell alumni on New York stages on the same night!
Leah Crocetto, fresh off of winning rave reviews in the San Francisco Opera's "Luisa Miller," is opening tonight as Liù in the Metropolitan Opera's production of "Turandot."  Leah has been making lots of news in the opera world recently — see these interviews from the Huffington Post and Associated Press for more!
Ian Knauer is in the cast of "Dames at Sea," which officially opens tonight at the Helen Hayes Theatre on Broadway after a month of previews. Longtime Croswell patrons may remember Ian from any number of shows, including "Sweeney Todd" and "Tintypes" in 1986 and "The Pirates of Penzance" in 1987.
There are many more Croswell alumni who are pursuing their dreams by making magic happen on the stage, but we thought two openings in one night was a great coincidence worth noting!