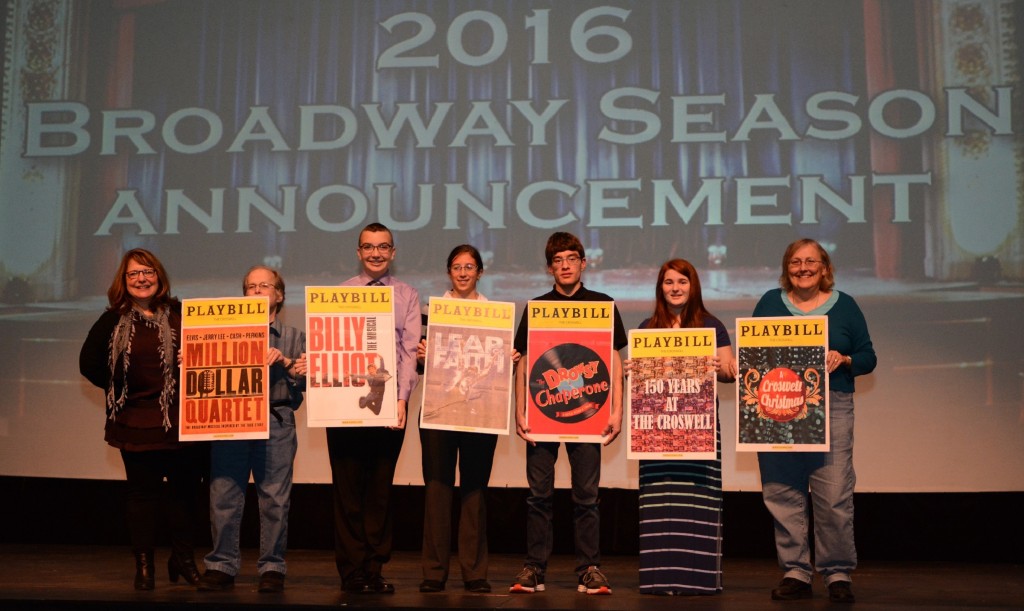 We are beyond excited to be announcing this incredible lineup of shows for the Croswell's 2016  Broadway Season! Thank you so much to everyone who joined us for the announcement. We knew it was going to be a big challenge to meet the expectations we set with last year's season, but we think this lineup of shows will be every bit as amazing!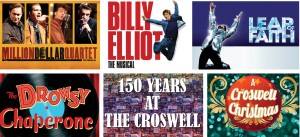 Here's the lineup:
May 13-22: "Million Dollar Quartet." This catchy jukebox musical is based on a real-life 1956 recording session that brought together four musical greats: Elvis Presley, Johnny Cash, Carl Perkins and Jerry Lee Lewis. The musical tells the story of that legendary day, with the cast rocking through popular numbers like "Blue Suede Shoes," "Folsom Prison Blues," "Great Balls of Fire," "Hound Dog" and "I Walk the Line." Featuring hit after hit from the 1950s, this musical is a "must-see" for anyone who loves the early days of rock 'n' roll.
June 11-26: "Billy Elliot." Set against the backdrop of a British coal miners' strike in the 1980s, this hit musical tells the inspiring story of a young boy's dreams of becoming a ballet dancer. With a powerful story, catchy tunes by Elton John and numerous show-stopping dance numbers, this is a spectacular musical. The Broadway production of "Billy Elliot" won 10 Tony Awards, including Best Musical of 2009, and was nominated for five more.
July 15-24: "Leap of Faith."  Based on a 1992 Steve Martin film, this new musical tells the story of a smooth-talking con man whose bus breaks down in a small Kansas town. The gospel-inspired music, by eight-time Oscar-winning composer Alan Menken, traces the main character's spiritual journey as he loses his cynicism and finds his faith.
Aug. 12-21: "The Drowsy Chaperone." Fans of classic musicals like "Anything Goes" will find plenty to love in this rousing comedy, which is an affectionate sendup of the musical theater genre. "The Drowsy Chaperone" mixes two lovers on the eve of their wedding, a bumbling best man, a desperate theater producer, a not-so-bright hostess, two gangsters posing as pastry chefs, and a misguided Don Juan in a madcap farce that features one show-stopping dance number after another. Dubbed "the perfect Broadway musical" by New York Magazine, "The Drowsy Chaperone" is a five-time Tony Award winner.
Sept. 17-25: "150 Years at the Croswell." It's the Croswell's 150th anniversary, and we're throwing a party to celebrate in classic Croswell style — on stage! From 1866 to the present day, this show will present a musical journey through 150 years of theater — and since the Croswell has been at the center of Adrian's cultural life that whole time, it'll be a journey through Adrian memories as well!
Nov. 26 to Dec. 4: "A Croswell Christmas."  In the vein of 2014's Christmas show, this musical revue will be a joyful celebration of the Christmas season. Everything from classic carols to songs from your favorite Christmas musicals will be woven into a fast-moving and entertaining show that's sure to leave the audience smiling.
Performances will take place at the Croswell from May through September, but because the front of the building will be closed for the first phase of renovations, patrons will enter the theater from the back. The Christmas show will take place at the Madison School District Performing Arts Center, 3498 Treat Highway, Adrian.
Season subscriptions will go on sale Monday, Dec. 14. Individual ticket sales begin Feb. 1, with a presale period for Croswell members offered starting Jan. 25.
Open auditions for all of the summer shows will take place in February and March. Click here for the dates.
The Croswell's 2016 Summer Broadway Season is sponsored in part by a generous grant from the Michigan Council for Arts and Cultural Affairs.