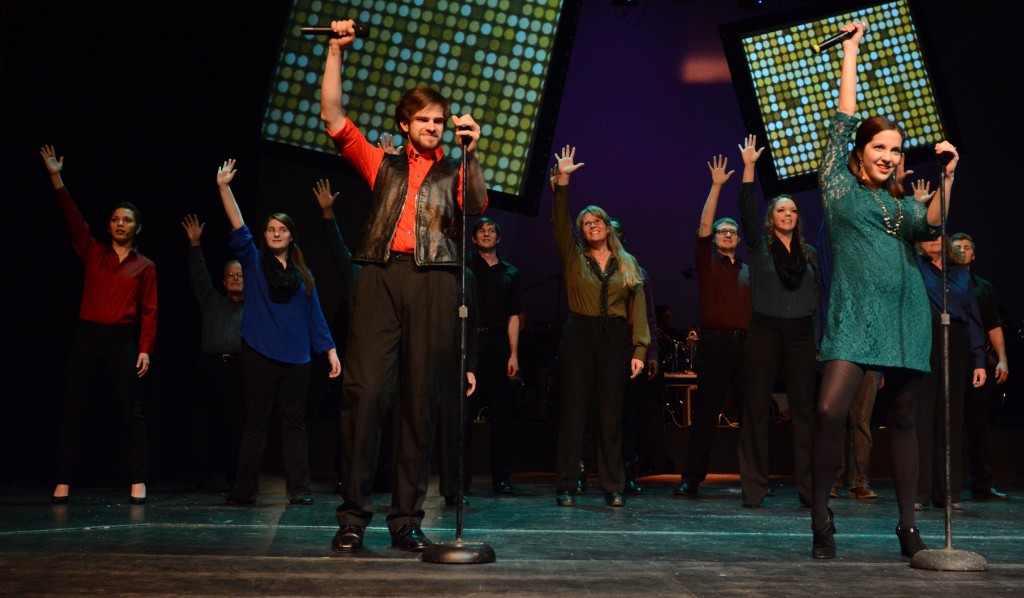 A modern treatment of a Christmas classic will hit the stage this season when the Croswell Opera House in downtown Adrian stages "Handel's Messiah Rocks!"
"Handel's Messiah Rocks!" is a rock 'n' roll adaptation of "Messiah," the sacred 18th-century oratorio by George Frideric Handel.
"Handel's 'Messiah' is one of the greatest pieces of sacred music ever written," said Jere Righter, the Croswell's artistic director. "Even though it's been updated in a modern style, the core message is the same as it's always been. It's an incredibly joyful celebration of the Christmas season, and I think Handel would be pleased to know that his music continues to speak to people all these centuries later."
"Messiah" was originally written in 1741 with text drawn from the King James Bible. Its first performances included a series of charity benefit concerts that raised money for hospitals and to free people from debtors' prison. It was not originally intended as a Christmas composition — in fact, many of the earliest performances were around Easter — but in the years since then, "Messiah" has become a Christmas tradition for many choirs around the world.
"Messiah" has been adapted many times over the past 274 years, including by composer Wolfgang Amadeus Mozart about 30 years after Handel's death. It has inspired many updates into contemporary musical styles.
"The fact that this music is so adaptable, that it has been updated in so many different ways over the years, shows you how powerful it is, and what an amazing piece of music it is," Righter said.
"Handel's Messiah Rocks!" was adapted by Grammy-winning composer Jason Howland and Broadway producer Dani Davis. It was last seen in this area when the national tour played in Toledo in 2012.
The Croswell's production is directed by John MacNaughton, with music direction by Dave Rains and choreography by Jessica Adams.
The lead singers are Dan Clair of Canton, who played Huey Calhoun in last summer's production of "Memphis"; Lisa Ohlinger of Adrian, who played Rapunzel in "Into the Woods"; and Dale White of Nashville, who played Will Bloom in "Big Fish."
The cast is rounded out by Jessica Adams, Davante Buie, A.J. Howard, Anthony Isom, Alexandra June, Kane Rada, Wesley Richard, Hannah Rowe, Barb Vaught and Rick Vaught, all of Adrian; Madeline Auth and Christian Deaton of Blissfield; Logan Balcom of Hillsdale; Melissa Paschall of Jackson; Rosemarie Ramsey of Onsted; and Cleon Broussard and Wade Ondrovick of Tecumseh.
Choirs from First Presbyterian Church of Adrian and Evergreen High School in Metamora, Ohio, will join the cast for some of the performances.
"Handel's Messiah Rocks!" opens Thanksgiving weekend, with performances at 7:30 p.m. Saturday, Nov. 28, and 2:30 p.m. Sunday, Nov. 29. Additional performances are at 7:30 p.m. Friday and Saturday, Dec. 4 and 5, and 2:30 p.m. Sunday, Dec. 6.
Tickets range from $15 to $30 and can be ordered online by clicking here or by calling 517-264-7469.
If you go
What: "Handel's Messiah Rocks!"
When: 7:30 p.m. Saturday, Nov. 28; 2:30 p.m. Sunday, Nov. 29; 7:30 p.m. Friday, Dec. 4; 7:30 p.m. Saturday, Dec. 5; 2:30 p.m. Sunday, Dec. 6
Where: Croswell Opera House, 129 E. Maumee St., Adrian
Tickets: $15 to $30
Get more info
Order tickets online