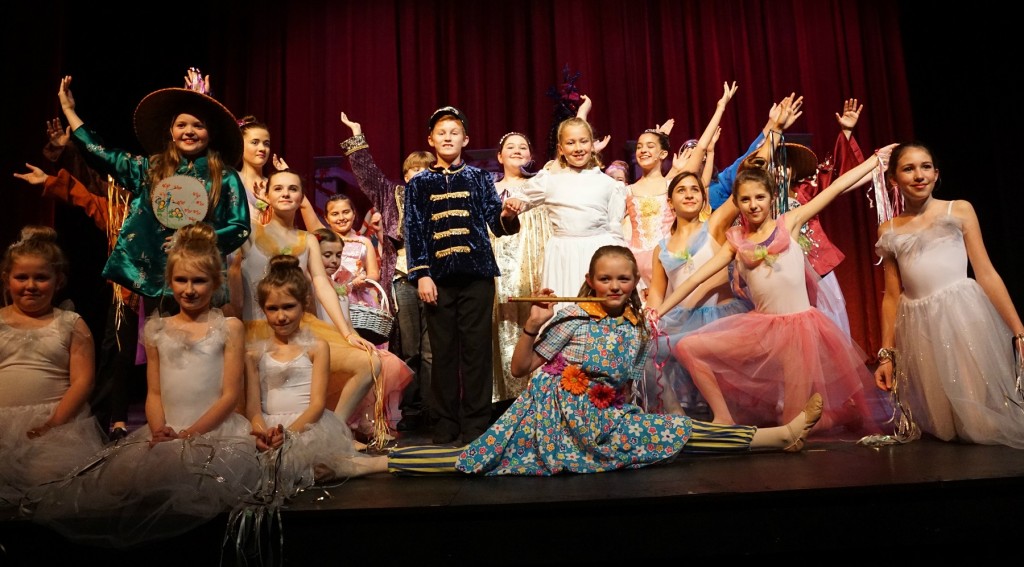 The Croswell Opera House in Adrian is presenting an adapted version of "The Nutcracker," aimed at introducing younger audiences to the Christmas classic.
The production, titled "The Story of the Nutcracker and the Mouse King," will not be the traditional ballet, director Julianne Dolan said. Instead, lyrics have been added to the traditional melodies and dialogue between the songs will help children follow the story more easily. The dances have also been adapted for a young cast.
"It's under an hour and it has all the elements of theater, so it's a great way to introduce your child to 'The Nutcracker,'" Dolan said.
Dolan said the production is similar to a children's "Nutcracker" she directed in 1977. That show included many children who went on to become familiar Croswell names as adults, including a young Eric Parker, who now works as an actor in Chicago and starred in last summer's production of "Big Fish."
Choreographers Eleanore Brown and Yelena Peck worked with the young actors to teach them dance moves that would be appropriate for the story, and in some cases the director and cast members even revised the show as they went along.
In addition to familiar melodies, audiences will see the traditional magical settings of the "Nutcracker" story, such as the Kingdom of the Sweets, where they will learn what happened to make the Nutcracker and the Mouse King enemies.
The production features Halle Horwath of Adrian as Clara, the young girl who receives a mysterious Nutcracker as a Christmas gift. Caleb Becerra of Adrian plays Clara's brother, Fritz; Kyle Haeussler of Tecumseh plays the kindly Dr. Drosselmeyer; Cole Carrico of Adrian plays the Nutcracker; and Cooper Adams of Adrian plays the Mouse King.
The cast also includes Carrianne Ausmus, Madelyn Bowman, Kiersten Brackelman, Rachel Cheng, Ava Demlow, Grace Demlow, Landin Fisher, Aneceo Gauna, Adriannah Hardman, Lauren Howard, Abigail Knight, Dylan Masters, Taylor McLaughlin, Katherine Nelson, Rosemary Olsaver, Madison Petty, Elizabeth Pifer, Mia Reynolds, Grace Smart, Ellis Snead, Goldie Snead and Rebekah Sumra, all of Adrian; Max McEwan and Sydney Ricker of Blissfield; Devyn Salter of Brooklyn; Brianna Bryant of Deerfield; Drew Honeywell of Hudson; Zoe Rorick of Jasper; Halle Bauer, Emily Kilpatrick and Ashlyn Slaviero, all of Onsted; Morgan Decker of Ottawa Lake; Aubrey Smith and McKenzie Smith of Palmyra; Kaylee Ahleman and Virginia Rawlings of Tecumseh; Meredith Baughey of Tipton; Addison Kiefer of Berkey, Ohio; and Evy Shrader of Metamora, Ohio.
"The Story of the Nutcracker and the Mouse King" opens with a single 11 a.m. performance on Saturday, Dec. 5, then continues the following weekend with shows at 6:30 p.m. Friday and Saturday, Dec. 11 and 12, and 2:30 p.m. Sunday, Dec. 13.
Admission ranges from $10 to $15 for adults and is $5 for children 15 and under. Tickets may be ordered online at croswell.org or by calling 517-264-7469.
If you go
What: "The Story of the Nutcracker and the Mouse King"
When: 11 a.m. Saturday, Dec. 5; 6:30 p.m. Friday and Saturday, Dec. 11 and 12; and 2:30 p.m. Sunday, Dec. 13.
Where: Croswell Opera House, 129 E. Maumee St., Adrian
Tickets: $10 to $15 for adults, $5 for children 15 and under
More info: croswell.org