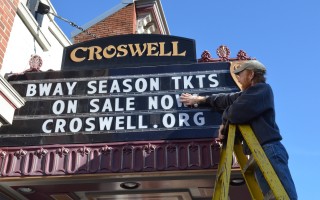 Tickets for the Croswell Opera House's 2016 Broadway Season, which includes six full-length musicals between May and December, are now on sale.
Tickets went on sale to the general public at 9 a.m. Monday, Feb. 1.
"We have an absolutely incredible season lined up," said Jere Righter, the Croswell's artistic director. "The shows in this season are some of the most ambitious we've ever done. They will be everything that people have come to expect from the Croswell, and more."
Several of last summer's dates were sellouts, so Righter said patrons should reserve their seats early.
"You should definitely plan on getting your tickets soon if you want to have your choice of seats," she said. "We don't want anyone to be disappointed."
The 2016 Broadway Season begins in May with "Million Dollar Quartet," which just wrapped up a successful seven-year run at Chicago's Apollo Theater. The Croswell's cast will portray legendary musicians Elvis Presley, Johnny Cash, Carl Perkins and Jerry Lee Lewis as they rock through some of those artists' greatest hits.
The Croswell's June production will be "Billy Elliot." Set against the British coal miners' strike of the 1980s, "Billy Elliot" is the story of a young boy who struggles against long odds to reach his dream of becoming a ballet dancer. The show was nominated for 15 Tony Awards and won 10, more than almost any other Broadway musical.
"Leap of Faith," a new musical based on the Steve Martin film of the same name, will hit the stage in July. With a high-energy gospel-inspired score, it tells the story of a cynical con man who finds love and regains his faith when his bus breaks down in a small Kansas town.
The summer will wrap up with "The Drowsy Chaperone," a comic sendup of some of the 20th century's most classic musicals. In September, a locally written show, "150 Years at the Croswell," will take its audience on a journey through 150 years of theater. Finally, the season will close out with "A Croswell Christmas," a holiday-themed musical revue, opening Thanksgiving weekend.
Tickets for all 2016 Broadway Season productions range from $15 to $35, depending on seat selection. The only exception is opening night for "Billy Elliot," which will be part of the Croswell's annual fundraising gala.
People interested in reserving seats for three or more shows can save money by ordering a subscription.
The Croswell is at 129 E. Maumee St. in downtown Adrian. Tickets may be ordered by calling 517-264-7469 between 9 a.m. and 5 p.m. Monday through Friday, or online at by clicking the "Buy Tickets" link at the top of this page.