Toledo-born singer-songwriter Tatiana Owens will return to the Croswell Opera House on Valentine's Day weekend for a pair of concerts spotlighting some of Motown's greatest hits.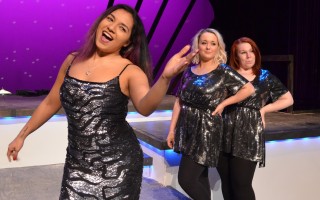 "Spirit of Motown: Tatiana Owens in Concert" will feature music from Aretha Franklin, Stevie Wonder, the Supremes, the Temptations, and many more. It will also include a special tribute to nine-time Grammy Award winner Natalie Cole, who died in December.
"Spirit of Motown" will be staged at 7:30 p.m. Saturday, Feb. 13, and at 5:30 p.m. Sunday, Feb. 14.
Owens last appeared at the Croswell in last summer's production of "Memphis," where she played to sold-out crowds and received rave reviews. She will be joined on stage by "Memphis" costars Dan Clair and Derrick Jordan and by frequent Croswell performers Becca Nowak, Sarah Nowak and Dale White.
"Tatiana is such a spectacular singer that even before 'Memphis' closed, we knew we had to have her back at the Croswell for an event like this," said Jere Righter, the Croswell's artistic director. "Her voice is absolutely incredible, and to see her on stage with all these powerhouse singers is going to be an unforgettable experience."
Motown was founded in Detroit in 1959, and remained in the Motor City until relocating to Los Angeles in 1972. During the 1960s, it helped launch performers like Diana Ross, the Four Tops and Marvin Gaye to worldwide fame.
"Motown brought us some of America's greatest music," Righter said. "It's such a huge part of not just America's heritage, but Michigan's heritage too, because so much of this amazing music was made right in our back yard."
Tickets to "Spirit of Motown: Tatiana Owens in Concert" are $25 for the main floor and $20 for the balcony, and may be ordered online or by calling 517-264-7469.