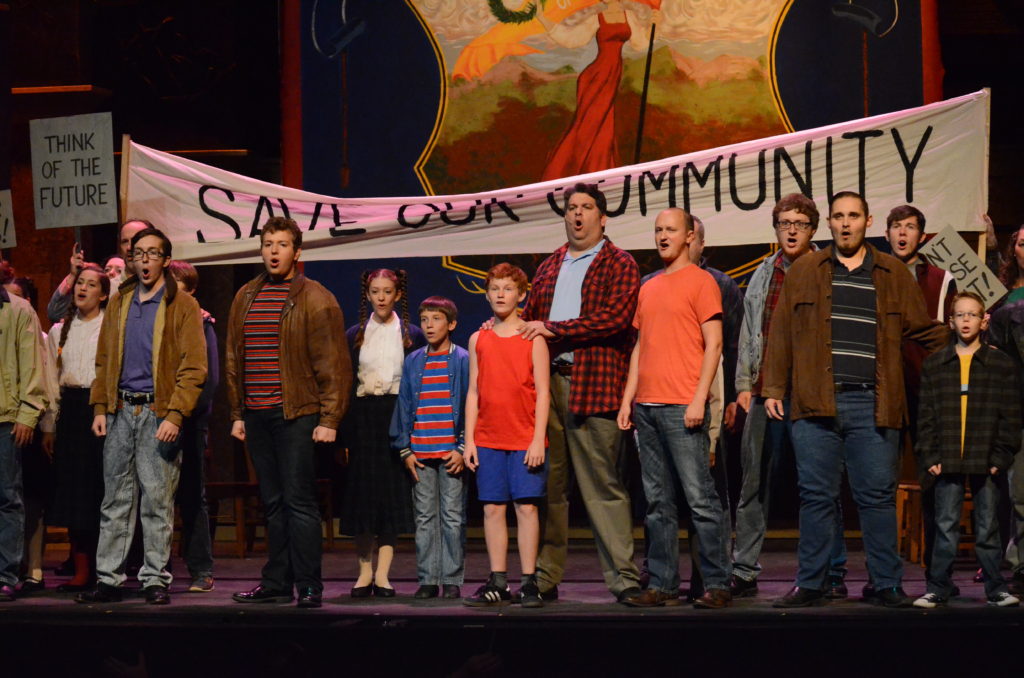 "Billy Elliot," the musical about a young boy struggling against long odds to become a dancer, took Broadway and London's West End by storm, racking up 15 Tony Award nominations and a host of other honors.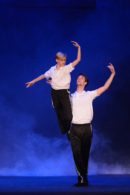 Now "Billy Elliot" is coming to southeast Michigan with a three-weekend run at Adrian's Croswell Opera House, the oldest theater in Michigan. The show opens June 11.
Set during the British coal miners' strike in the 1980s, "Billy Elliot" tells the story of a boy who, staying late after his boxing lessons, ends up in a ballet class and discovers talents he never imagined. Facing disapproval from his family and harsh economic circumstances, he practices in secret against the backdrop of a community struggling for survival.
"This is such an important story," said Jere Righter, the Croswell's artistic director. "It's about following your passion and finding your voice, and ultimately it's also a story about family."
For director Julianne Dolan, the show is especially personal because it reminds her of so many young artists she's known over the years, both at the Croswell and at Adrian Public Schools, from which she recently retired as fine arts director.
"We've known so many Billys at the Croswell — girls and boys, young men and women, who were able to follow their passion because they had adult support," Dolan said. "So when I watch 'Billy Elliot,' I think about all those kids."
Landon Brimacombe of Ann Arbor and Cole Carrico of Adrian alternate in the role of Billy, a demanding part that requires extensive skill in tap, ballet and several other forms of dance, on top of singing and acting. Both boys began preparing in January with eight weeks of pre-audition workshops, and since being cast, they've been doing daily exercises on top of their rehearsals to build up the strength and stamina needed for the role.
Erin Yuen of Adrian plays Mrs. Wilkinson, the caustic but caring dance teacher who first sees Billy's potential. The Elliot family includes Jared Hoffert of Ann Arbor as Billy's father, Steven Kiss of Lambertville as older brother Tony, Jay Hillard of Northville as Billy's grandmother, and Tammy Halay of Toledo as Billy's late mother.
Gabe Omlor of Toledo plays Billy's best friend, Michael, and Hannah Buck of Toledo plays Mrs. Wilkinson's daughter, Debbie. Billy and Michael's boxing instructor, George, is played by John Bacarella of Monroe.
The girls in Billy's ballet class are Hannah Baker and Claire Schafer of Onsted, Morgan Decker of Ottawa Lake, Chloe Danley and Anna McCarley of Tecumseh, and Christina Youngblood of Whitehouse, Ohio. Mrs. Wilkinson's assistant, Mr. Braithwaite, is played by Joshua Mohler of Monroe. Aidan Ziegler-Hansen of Ann Arbor plays Billy's adult self in a dream sequence.
Rounding out the 38-person cast are Cooper Adams, Jacob Adams, Jeff Adams, Jessica Adams, Cary Carrico, Justin Kohlruss, Tim Ray, Wesley Richard, Xavier Sarabia, Aaron Shown, Peter Stewart and Kai Yuen, all of Adrian; Lucas Connor of Ann Arbor; Joanna Bacarella of Monroe; Joseph Ball of Perrysburg; Walter Book of Petersburg; Cleon Broussard, Jayden Donaghy and Kayla Henry, all of Tecumseh; and Suzanne Smith of Temperance.
The show features music direction by Jonathan Sills. The choreographer is Sarah Nowak and the assistant choreographer is Hailie Hagedorn. Scenic design is by Doug Miller and costumes are by Pam Krage.
Righter said the show is so rigorous, both in terms of its demands on the actors and in terms of its technical requirements, that very few community theaters are attempting it. According to Music Theatre International, which licenses the show, no other productions are currently scheduled anywhere in Michigan, and only one production is scheduled anywhere in Ohio.
"We've been building a reputation over the past several years for putting on extremely ambitious shows, and this is no exception," Righter said.
"Billy Elliot" is based on the movie of the same name and features original songs by Elton John.
"Billy Elliot" opens Saturday, June 11, at 8 p.m. Additional shows are Sunday, June 12, at 2:30 p.m.; Friday, June 17, at 8 p.m.; Saturday, June 18, at 8 p.m.; Sunday, June 19, at 2:30 p.m.; Thursday, June 23, at 8 p.m.; Friday, June 24, at 8 p.m.; Saturday, June 25, at 8 p.m.; and Sunday, June 26, at 2:30 p.m.
Admission ranges from $15 to $35, except for opening night, when $50 tickets include a gala reception with the cast after the show. Tickets may be ordered online at croswell.org or by calling 517-264-7469.
The Croswell Opera House is at 129 E. Maumee St. in downtown Adrian. Because the front of the building is under construction, parking behind the theater is recommended.