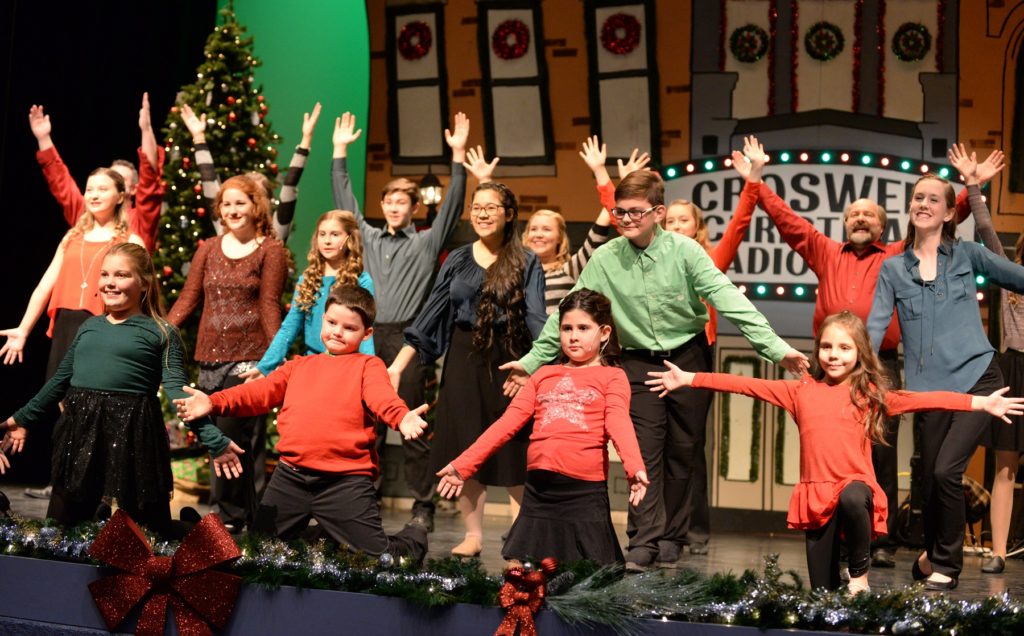 Although the Croswell Opera House in Adrian is closed for renovations over the winter, the show must go on — and this Christmas, it's taking place at Madison High School.
"The Croswell Christmas Radio Hour" opens Thanksgiving weekend at the Madison High School Performing Arts Center, 3498 Treat Highway, Adrian.
The show uses the setting of a live radio broadcast to tell a story that includes many favorite Christmas songs, such as "White Christmas," "Winter Wonderland," "Silver Bells," "I'll be Home for Christmas," and even "I Saw Mommy Kissing Santa Claus."
"It's kind of like 'A Prairie Home Companion' meets 'The Carol Burnett Show,'" said director Jen Letherer, who also wrote the script for the show.
Don LaFollette of Pittsford plays Gary, a radio DJ who falls asleep after drinking too much cough medicine, leading his mother, Gladys, played by Julianne Dolan of Adrian, to go on the air in his place. Candace Filonczuk of Williamston plays Shauna, the radio station's harried intern, and Tom Hodgman of Tecumseh plays an exasperated announcer who does double duty as the sound-effects man for a radio acting company.
Although the radio station in the story is fictional, the audience may notice a few segments that pay tribute to some Lenawee County radio traditions.
The cast also includes Jessica Adams, Noelle Drews, Adriannah Hardman, Alexandra June, Aiden Ketola, Abigail Knight, Jean MacNaughton, Payton Sharpe, and Gabriella Terrones, all of Adrian; Halle Bauer of Onsted; Sarah Hodgman, Tommy Hodgman, Mark Hyre, Anna McCarley, Sarah Nowak, and Hannah Rowe, all of Tecumseh; Isabelle Bonaminio and Olivia Bonaminio of Swanton, Ohio; and Evy Shrader of Metamora, Ohio.
The music director is Dave Rains and the choreographer is Sarah Nowak. The costume designer is Pam Krage and the scenic designer is John MacNaughton.
"The Croswell Christmas Radio Hour" opens at 7:30 p.m. Saturday, Nov. 26, with a matinee at 2:30 p.m. Sunday, Nov. 27. Performances the second weekend are at 7:30 p.m. Friday and Saturday, Dec. 2 and 3, and 2:30 p.m. Sunday, Dec. 4.
The Madison High School Performing Arts Center is at 3498 Treat Highway, Adrian. Tickets may be purchased at the door or ordered by phone at 517-264-7469 (Monday through Friday only) or online at croswell.org.
If you go
What: "The Croswell Christmas Radio Hour"
When: 26-27 and Dec. 2-4, with Friday and Saturday shows at 7:30 p.m. and Sunday shows at 2:30 p.m.
Where: Madison High School Performing Arts Center, 3498 Treat Highway, Adrian
Tickets: $15 to $35