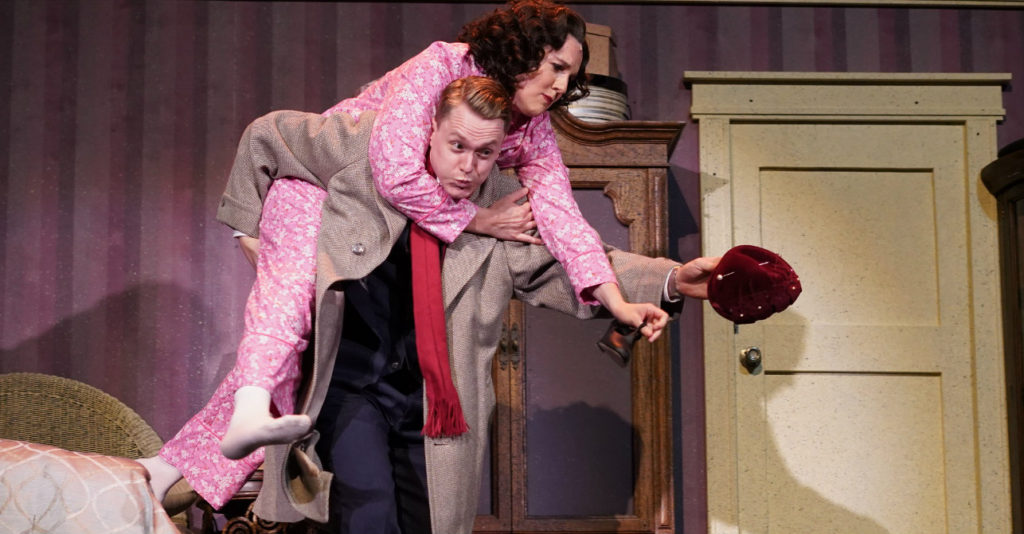 The Croswell Opera House's 2018 season continues this month with its production of "She Loves Me," a romantic comedy musical that has inspired many adaptations including the movie "You've Got Mail."
"It tells the story of love and being vulnerable, and it's very true to what real life is like," director Julianne Dolan said.
Georg and Amalia, both sales clerks at a perfume store in 1930s Budapest, hate each other at work but unknowingly fall in love as anonymous pen pals.
"They play off of each other," Dolan said. "Amalia is mouthy when she is with Georg, and he follows the rules. It's fun to see that fire happen between them."
Shonn Wiley of Tucson, Arizona, an Adrian native who was in the original Chicago cast of "Jersey Boys" and is a founding member of the touring band Under the Streetlamp, is returning to his hometown stage to play Georg.
"Shonn is the perfect person to play Georg. He's suave and sophisticated but also vulnerable," Dolan said.
Leah Fox of Ypsilanti, who played the title role in the Croswell's 2015 production of "Mary Poppins," plays Amalia. In contrast to the rule-following Georg, the sharp-witted Amalia does things her own way and refuses to back down when she believes she is right.
Fox said "She Loves Me" has a classic, old-time musical feel, combined with smart writing.
"The character songs are so clever with lyrics and vocabulary," she said. "Nothing is wasted. Every line the characters sing is for a reason and gives you something new."
Other employees of the store include Sarah Nowak of Tecumseh as the gullible Ilona, Ashley Fox of Ypsilanti as the womanizing Kodaly, Karl Kasischke of Ann Arbor as the timid Sipos, and Alan Gibson of Ottawa Lake as the eager-to-please bike messenger Arpad. The shop's owner, Mr. Maraczek, is played by John Bacarella of Monroe.
The ensemble includes Debbie Corbin, Emily Kapnick, Cameron Kuhn, Crosby Slupe, Lylah Slupe, and Pete Stewart, all of Adrian; Emily Slomovits of Ann Arbor; Stephen Kiersey of Brownstown Township; Debra Nichols of Milan; Joanna Bacarella of Monroe; Reuben Hagedorn of Oregon; Cordell Smith of Riga; Steven Owsley of Stockbridge; Pam Adair of Tecumseh; Ashley Roark of Toledo; and Hannah Sparrow of Ypsilanti.
The creative team includes music director Joseph Daniel, choreographer Libby Garno, scenic designer Doug Miller, costume designer Pam Krage, sound designer Chris Goosman, lighting designer Tiff Crutchfield and stage manager Phoenix Jacob.
"She Loves Me" will run from July 13-15 and July 19-22. Evening shows are at 8 p.m. Fridays, Saturdays, and the second Thursday. Afternoon shows are at 2:30 p.m. Sundays and the second Saturday. Tickets range from $15 to $35 and may be ordered at croswell.org.