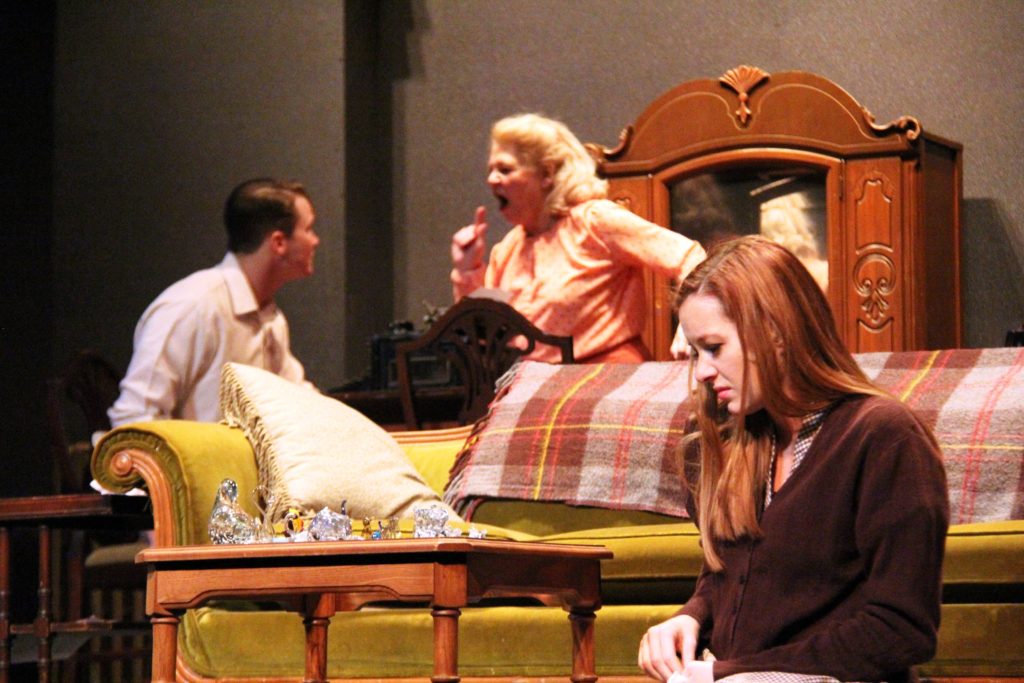 In the 75 years since it premiered at Chicago's Civic Theatre, "The Glass Menagerie" has become known as one of the great classics of American drama.

But though it has been restaged and reimagined countless times, the play that launched author Tennessee Williams to fame remains as compelling today as the first time it was performed.

"It's an incredible story with characters that are very rich and complex and identifiable," said Matthew D. Bowland, who directs the production that will open March 1 at the Croswell Opera House in Adrian.

The play takes place entirely in the memory of Tom Wingfield, the narrator and protagonist, who serves as a mirror of Williams' own life. It tells of Tom's fraught relationship with his mother, fading southern belle Amanda, whose histrionic nature overshadows both Tom and his sister, Laura, a wallflower who is crippled by her own shyness and spends her days lost in her collection of glass figurines.

The role of Amanda is played by Julianne Dolan of Adrian, who is a frequent director of Croswell shows but is seen much less frequently on stage. Dolan previously appeared in the Croswell's productions of "A Streetcar Named Desire" and "Father of the Bride."

Tom is played by Peter Crist of Adrian, previously seen in the Croswell's 2017 productions of "Chitty Chitty Bang Bang" and "Beauty and the Beast," and Laura is played by Tara Ann Althaus of Temperance, whose most recent Croswell credits were 2015's "Big Fish" and 2017's "A Funny Thing Happened on the Way to the Forum."

Much of the play revolves around Amanda's obsession with finding a "gentleman caller" for her daughter. That role is played by Mat Pecek of Ypsilanti, who was last seen at the Croswell as the male lead in "The Drowsy Chaperone."

A new dimension is brought to the Croswell's production by the addition of original music by Luke D. Rosen, a Toledo-area composer. A graduate of the music school at Bowling Green State University, Rosen is the director of music ministry for Corpus Christi University Parish.

Bowland said Rosen asked him for five adjectives to encompass the emotional complexity of the play. The words he settled on were "haunting," "sad," "ethereal," "sentimental" and "hopeful," and Rosen used those as a starting point for his music.

"It really is quite lovely and I think it's going to add a whole other element to the show," Bowland said.

The play allows viewers to decide how much of the narrative is real and how much exists only in the unreliable memory of its narrator.

"It's kind of left up to the audience to decide for themselves what in the play is accurate and what is not," Bowland said.

Although the Croswell is mostly known for musical theater, Bowland said he hopes audiences will come out to see something different.

"I really want people to take a chance on coming to see a play," he said. "Even if plays are not their thing, or they haven't seen a play before, I think this is one that should be on everyone's list to see at least once."

"The Glass Menagerie" opens March 1 and runs for two weekends, with Friday and Saturday performances at 7:30 p.m. and Sunday performances at 2:30 p.m. Tickets range from $12 to $25 and may be ordered by calling 517-264-7469 or online at croswell.org.

The Croswell is at 129 E. Maumee St., Adrian.