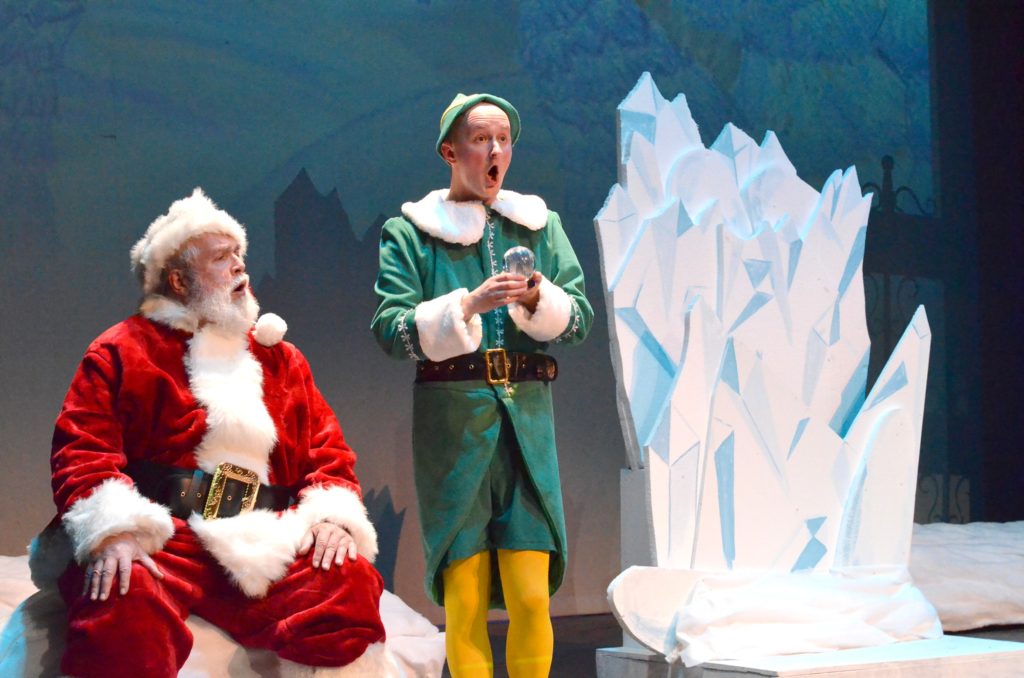 A beloved Christmas story will come to Adrian for three weekends starting Friday, November 23, when the Croswell Opera House stages the musical "Elf."
Based on the 2003 Will Ferrell movie of the same name, the stage musical features original songs by Matthew Sklar and Chad Beguelin, who are also known for the stage adaptation of "The Wedding Singer."
Steven Kiss of Lambertville plays Buddy, a human raised by elves at the North Pole. After learning of his identity, Buddy travels to New York in search of his father.
Kiss said the musical includes all of the iconic moments that fans of the movie will expect, but gives many of the characters more development.
"The whole show just has heart to it," he said.
The show is directed by Debra Ross Calabrese, with music direction by Wynne Marsh and choreography by Kristi Lynn Davis.
Katelyn Lesle Levering of Toledo plays Jovie, a cynical department store employee who becomes Buddy's love interest. John Bacarella of Monroe plays Buddy's father, Walter Hobbs; Alisa Mutchler Bauer of Chelsea is Walter's wife, Emily; and Luke Barden of Clinton is their son, Michael. Santa is played by Bob Welly of Toledo, with Joanna Bacarella of Monroe as Mrs. Claus.
Rounding out the 33-person cast are Cole Carrico, Rachel Cheng, Gabriel Ebeling, Meg Grzeszczak, Alexandra June, Brittani McComb and Haley Petrowski, all of Adrian; Alvaro Navarrete, an exchange student from Spain attending Adrian High School; Olivia Bacarella of Monroe; Ava Brighton and Kirk Wilkens of Onsted; Morgan Decker and Adam Lenhart of Ottawa Lake; Jonah Hiatt of Palmyra; Oden Berthelsen, Anna McCarley, Wynter Osstifin, Macy Schmidt and Kimberly VanCamp, all of Tecumseh; Emily Ialacci and Chris Smith of Temperance; Nickolas Brown of Ypsilanti; Olivia Gierke of Oregon, Ohio; Sabriyah Davis and Corionn Taylor of Toledo; and Trevor Gill-Snow of Whitehouse.
"Elf" opens Friday and runs the weekends of Nov. 22, Nov. 29, and Dec. 6. Friday and Saturday shows are at 7:30 p.m. and Sunday shows are at 2:30 p.m., with two additional Saturday matinees on Nov. 30 and Dec. 7.
Tickets range from $20 to $40 for adults and are $15 for children.
The Croswell is a 640-seat historic theater located at 129 E. Maumee St., Adrian. For tickets and more information, call 517-264-7469 or go to croswell.org.