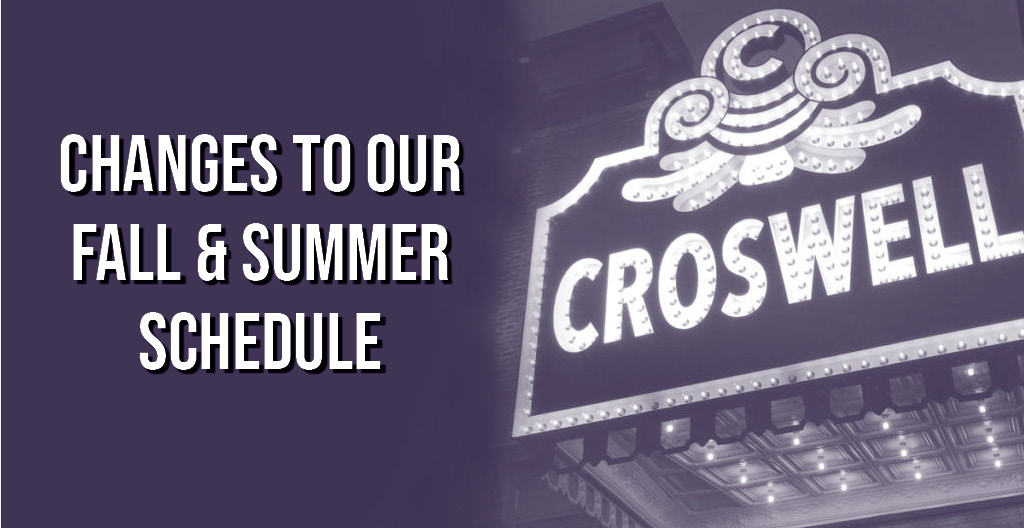 For the past several weeks, we've been watching the Coronavirus situation carefully, making plans for the Croswell's eventual reopening, and trying to figure out how we can offer great entertainment to our community while keeping our guests and volunteers safe and healthy.
Although we do not feel that we will be able to welcome guests back into the theater anytime soon, we are eager to get back to creating art and sharing it with our community! So today, we are making several announcements about our summer and fall lineup.
Our previously scheduled August, September and October musicals will not be produced this year. This affects:
Holiday Inn
Disney's The Little Mermaid
Cabaret
We did not make this decision lightly, but we feel it is the responsible thing to do. Although Michigan is in better shape than many other states, our numbers still aren't good enough to move to the next phase of reopening, and theaters in southern Michigan still cannot be open. The recent spikes in other parts of the country are also cause for concern.
In addition, every show requires six to eight weeks of rehearsals, and casting needs to begin about three months before opening night. This means that decisions need to be made well in advance of the scheduled show dates. The health of our volunteer performers is our top priority, and we do not feel that we can begin safely rehearsing with large casts at this point.
If you have tickets to Holiday Inn, The Little Mermaid, or Cabaret, you will receive an email soon with information about your options. We hope to produce all of these shows in the near future, but we are not yet able to put dates on the calendar.
Taking the place of these shows will be a variety of outdoor and online events. These will include:
Every Brilliant Thing, a one-woman play that was originally scheduled for April. This play will be performed in late July in the Farmers Market Pavilion on Toledo Street.
An outdoor concert series in the courtyard behind Adrian City Hall and the Adrian District Library.
An online magic show with Stuart MacDonald.
An outdoor fall concert with opera singer Leah Crocetto.
Details about all of these events will be announced in the next few weeks.
We are still hoping to produce our November and December shows as scheduled. This includes the classic country act Branson on the Road in early November, the musical A Christmas Story starting Thanksgiving weekend, and Under the Streetlamp's "Hip to the Holidays" concert a few days before Christmas.
Finally, gift certificate and house credit expiration dates are being extended. If you have a gift certificate or house credit that expires anytime in 2020, it will be honored through the end of 2021.
Thank you so much for your support! We miss you and we hope to see you soon.