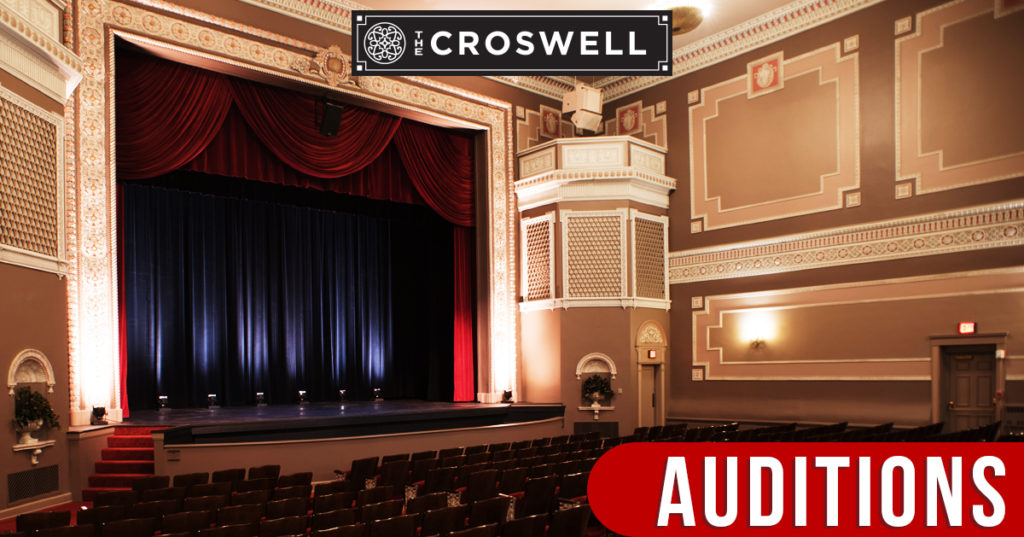 Auditions for Aglio e Olio
The Croswell Opera House is holding open auditions for Aglio e Olio. This new play is a one-woman show in which the actress tells the story of her father's final days while preparing his favorite dish, linguini aioli. The play will be performed February 14-17 in the home of Frank and Brenda Baker in Blissfield.
Auditions will take place on:
Sunday, December 2, from 6:30 to 8 p.m.
Monday, December 3, from 7-8:30 p.m.
The show requires one female performer, late 20s to late 50s. Audition sides will be available in advance upon request, but cold reads are also welcome. For more information, contact director John MacNaughton at 517-263-6868 or jmacnaughton@croswell.org.
Click here for general audition information.
---
About the show
Aglio e Olio is a one-woman show written by Meg Persichetti and originally produced and directed by Laura Gilkey. It uses a nontraditional setting, which includes the sharing of a meal, to create a unique bond between performer and audience. Click here to read an article about the show as it was originally staged.
---
Upcoming audition dates
The Glass Menagerie: Five adult roles (three men, two women).
Saturday, January 12 from 11 a.m. to 1 p.m.
Monday, January 14 from 6:30 to 8:30 p.m.
The Perfect Dog: Roles for adults and high school students.
Saturday, January 12 from 11 a.m. to 1 p.m.
Monday, January 14 from 6:30 to 8:30 p.m.
Once and The Music of Andrew Lloyd Webber: Roles for adults.
Saturday, March 9, from 11 a.m. to 2 p.m.
Monday, March 11, from 6:30 to 8:30 p.m.
The Music Man, Violet, Sister Act, and Matilda: Roles for adults in all shows; roles for children in The Music Man and Matilda.
Sunday, March 24, from 4-7 p.m. (children under 12)
Monday, March 25, from 6:30 to 9:30 p.m.
Saturday, March 30, from 1-4 p.m.
---
General audition information
Most Croswell shows rehearse for about six weeks. You will be asked to list any conflicts on your audition form.
If you are auditioning for a musical, be prepared to sing a song — bring sheet music for the pianist, no CDs. The song choice is up to you; although it can be helpful to sing something in the style of the show you're auditioning for, the most important thing is to prepare a piece you feel comfortable with. If you get cut off after 16 or 32 bars, don't worry — it's normal for that to happen in auditions and does not mean you won't get a callback or be in the show.
For musicals, be prepared to dance — wear or bring shoes you can dance in, with loose, comfortable clothing.
You can expect to be at auditions for at least an hour, possibly two.
The Croswell's artistic team is committed to flexible, imaginative casting. Performers of all backgrounds and ethnicities are encouraged to participate. Reasonable accommodations will be made for anyone with special needs.
For more information about auditions, call 517-263-6868 or email jmacnaughton@croswell.org.
Have more questions? This blog post might answer some of them.
Can't make it to auditions? Although attending in person is preferred, if you are unable to make any of the audition times, please email John MacNaughton at jmacnaughton@croswell.org for information about setting up a video audition.
All Croswell productions are cast locally with open auditions. If you would like to receive notices about upcoming auditions, please sign up for our auditions mailing list.