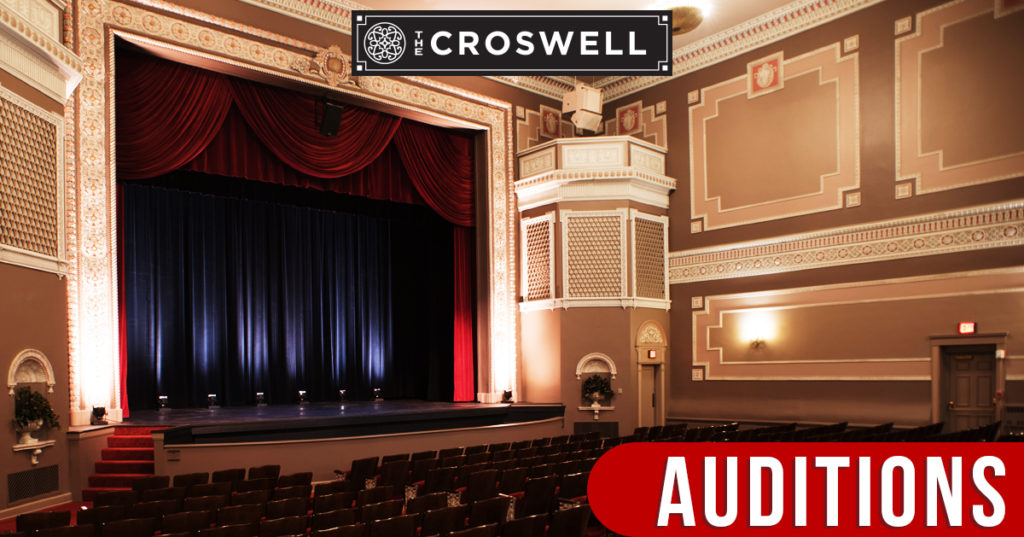 Auditions for The Wizard of Oz
Auditions for the Croswell's production of The Wizard of Oz will take place on:
Sunday, September 16, from 6-9 p.m.
Saturday, September 22, from 10 a.m. to 1 p.m.
Callbacks will take place the evening of September 23. Please plan on leaving that date open.
Click here for complete audition guidelines.
---
About the show
One of the greatest classics of American cinema will come to life on the Croswell stage this Christmas season! (Note: There have been several stage versions of The Wizard of Oz. This will be the Royal Shakespeare Company adaptation, which hews more closely to the movie.)
The creative team is:
Director: Julianne Dolan
Music Director: Wynne Marsh
Choreographer: Allison Kuhr
Rehearsal commitment: Beginning approximately Oct. 1.
Performance dates: November 24 to December 9.
Additional notes:
Generally, children should be at least 7 years old to audition. Parents of children younger than 7 should contact the Croswell first.

We strongly recommend preparing a selection of no more than 32 bars, and 16 bars is perfectly acceptable.

 Because we anticipate high interest in this show, it is likely that longer selections will be cut off.
---
General audition information
Most Croswell shows rehearse for about six weeks. You will be asked to list any conflicts on your audition form.
If you are auditioning for a musical, be prepared to sing a song — bring sheet music for the pianist, no CDs. The song choice is up to you; although it can be helpful to sing something in the style of the show you're auditioning for, the most important thing is to prepare a piece you feel comfortable with. If you get cut off after 16 or 32 bars, don't worry — it's normal for that to happen in auditions and does not mean you won't get a callback or be in the show.
For musicals, be prepared to dance — wear or bring shoes you can dance in, with loose, comfortable clothing.
You can expect to be at auditions for at least an hour, possibly two.
The Croswell's artistic team is committed to flexible, imaginative casting. Performers of all backgrounds and ethnicities are encouraged to participate. Reasonable accommodations will be made for anyone with special needs.
For more information about auditions, call 517-263-6868 or email jmacnaughton@croswell.org.
Have more questions? This blog post might answer some of them.
Can't make it to auditions? Although attending in person is preferred, if you are unable to make any of the audition times, please email John MacNaughton at jmacnaughton@croswell.org for information about setting up a video audition.
All Croswell productions are cast locally with open auditions. If you would like to receive notices about upcoming auditions, please sign up for our auditions mailing list.