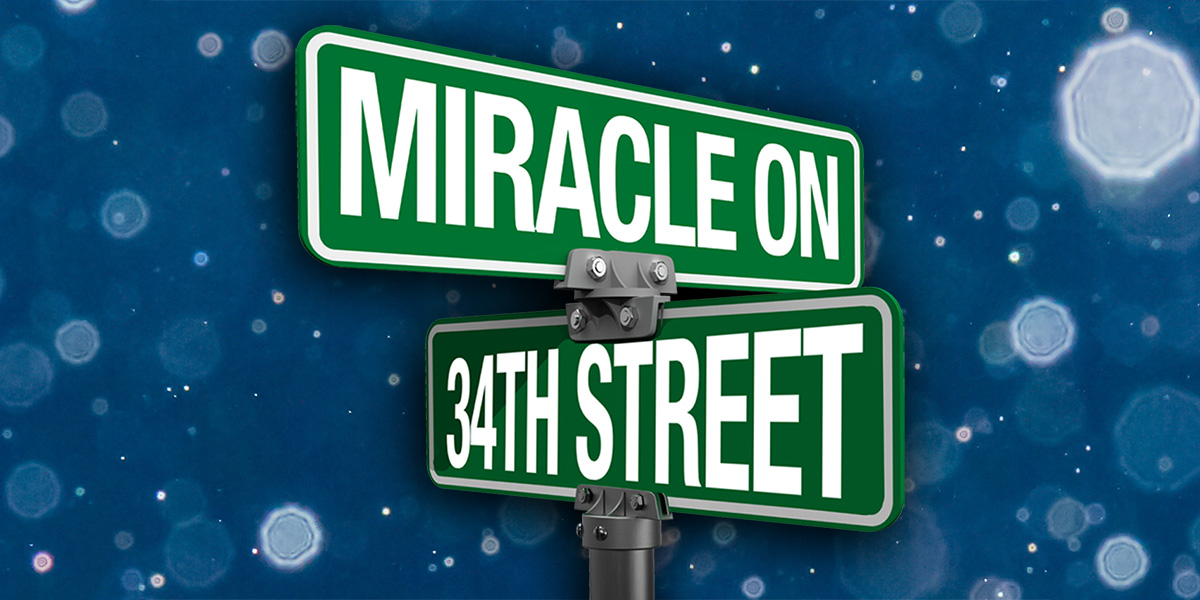 November 18 – December 4
Written by Meredith Willson (The Music Man) and based on the movie of the same name, this holiday classic is sure to put you in the mood for Christmas! Miracle on 34th Street is returning to the Croswell stage for the first time in 10 years.
Dates and times
There is no performance on Friday, December 2. We encourage you to visit downtown Adrian that evening for the lighting of the Comstock Christmas Riverwalk!
Ticket prices
Adults: $40 / $30 / $20
Students: $25 / $20 / $15
Recommended audience
Suitable for all ages.
Accessibility
Wheelchair-accessible seating is available on the orchestra level. For people who require hearing assistance, we have both assistive headsets and a hearing loop system.
Creative team
Directors: John MacNaughton and Stephen Kiersey
Music Director: Wynne Marsh
Choreographer: Sabriyah Davis
Stage Manager: Tom Hodgman
Cast
Kris Kringle: Mark Hyre
Doris Walker: Cristina Pellerano
Susan Walker: Alayna Brazzil
Fred Gailey: Joe Dennehy
Shellhammer: Gabriel Ebeling
Macy: Peter Kentes
Thomas Mara/Governor: Nate Snyder
Judge Martin/Drunk Santa: Mark Schersten
O'Halloran: Peter Stewart
Sawyer: Conner Raymond
Tommy Mara: Adrian Stukey
Gimbel/Max: Carter Steude
Balloon Vendor: Virginia Atkinson
Mayor: Angie Heath
Clara/Macy's Clerk: Taylor Goodin
Miss Sims/Macy's Clerk: Haylie Blohm
Hendrika: Paige Burgess
Harry Finfer: Lucas Snyder
Mrs. Finfer: Michelle Doerfler
Billy/Macy's Clerk: Alex Coumoundouros
Macy's Clerk: Carrianne Ausmus
Policeman: Gary Hall
Policeman/Macy's Clerk: Eric Diehl

Youth Ensemble: Colbie Baer, Carsyn Benzing, Mason Brogan, Alex Coumoundouros, Brenna Gifford, Harper Goodson, Olivia Grzebik, Libby Pifer, Ava Snyder, Lucas Snyder, Adrian Stukey