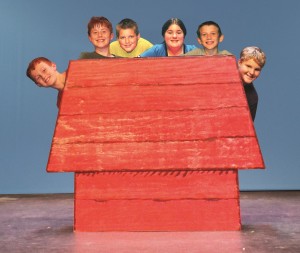 The Croswell Opera House has announced the cast for its upcoming production of "A Charlie Brown Christmas," which will open Thanksgiving weekend and run through Dec. 7.
The part of Charlie Brown will be played by A.J. McClellan of Adrian, with Snoopy played by Payton Perry-Radcliffe of Adrian. Rounding out the all-student cast will be Alexandra June of Adrian as Lucy, Kyle Haeussler of Tecumseh as Linus, Cole Carrico of Adrian as Pig Pen, Grant Long of Clayton as Shermy, Max McEwan of Blissfield as Schroeder, Maggie Page of Clarklake as Frieda, Emily Kilpatrick of Onsted as Violet, Margaret Watson of Adrian as Sally, Carson Pickles of Jasper as Patty, and Cooper Adams of Adrian as Woodstock.
The chorus will include Caleb Becerra, Natalie Becerra, Kiersten Brackelman, Emma Briggs, Olivia Gawron, Sarai Gradeless, Abigail Knight, Megan Langley, Emma Mehan, Erin Mehan, Victoria Miller and Grace Steinke of Adrian; Flavia Brown of Addison; Emily Auth of Blissfield; Taegan Long of Clayton; Keely Davis and James Hallenbeck of Manitou Beach; Julianne Schoonover of Morenci; Halle Bauer of Onsted; and Braeden Haeussler of Tecumseh.
The assistant director will be A.J. Howard of Adrian. Jacqueline Adams of Adrian will be the stage manager, and Brock Boze of Adrian will be assistant stage manager.
"A Charlie Brown Christmas" is a stage version of the classic TV Christmas special. Shows will be at 5:30 p.m. Saturday, Nov. 29; 2:30 p.m. Sunday, Nov. 30; 5:30 p.m. Friday, Dec. 5; 11:30 a.m. Saturday, Dec. 6; and 5:30 p.m. Sunday, Dec. 7.
To buy tickets or for more information about any Croswell production, call 517-264-SHOW (7469), visit croswell.org, or follow the Croswell on Facebook or Twitter.