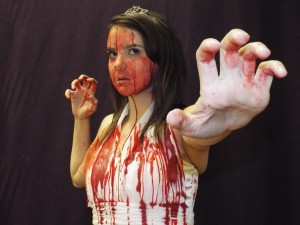 The Croswell Opera House in downtown Adrian will produce "Carrie, the Musical," a stage show based on Stephen King's classic tale of teenage revenge, from Oct. 17-26.

The plot of "Carrie" is so much a part of pop culture that even somebody who's never read the book or seen the 1976 movie can probably recite the basics. High school student Carrie White, bullied and harassed by her peers, begins to develop telekinetic powers. When a classmate plays a cruel prank on her at prom, her vengeance is swift, furious — and murderously destructive.
The story was first adapted for the Broadway stage in 1988. It was initially unsuccessful, but then creators Michael Gore and Dean Pitchford revived the musical off-Broadway in 2012 with new songs, a modern setting, and increased attention to the underlying theme of school bullying.
The Croswell's production of "Carrie" is directed by Eric Parker, whose most recent Croswell role was as Jean Valjean in last summer's production of "Les Miserables."
Parker said Stephen King fans may find that the musical is a little more similar to the original novel than Brian De Palma's film was.
"The movie was basically a supernatural thriller that dealt more with the telekinesis and the revenge aspect of 'Carrie,'" he said. "The musical hews a little closer to the book in that it sticks more closely to Carrie's classmate Sue's point of view as she's being interrogated as the lone survivor after prom night, and it deals a little more with the mother and how she got to be as crazy as she is."
The title role is played by Mariah Valdes of Adrian, a junior at Siena Heights University in her first leading role at the Croswell.
Parker said the role is a demanding one because the actress needs to have the emotional range to pivot from quiet shyness to destructive rage in the blink of an eye.
"Mariah has enough of the meek and unassuming personality to be convincing, but enough of a powerhouse voice to carry the show when the bloodbath starts," he said.
For Valdes, playing Carrie is especially rewarding because she loves the movie and knows it by heart.
"I love horror movies," she said. "It's my favorite genre, and to play an iconic character in the genre is a dream."
Valdes said she likes the complexity of the characters — for instance, Carrie's mother, Margaret, who sees her creepy and psychotic behavior toward Carrie as completely justified. The audience, she said, will enjoy Jessica Adams' choreography and the rock-style score.
The music is demanding, requiring many of the cast members to alternate between soaring ballads and fast-paced ensemble numbers with complicated interplay between the parts.
"It's challenging," Valdes said. "They ask a lot from everyone. … It's a little bit like Sondheim sometimes, the score is so complex."
Beyond the three hours a day that the cast spends in rehearsal, Valdes said she spends at least a few more hours working on lines and listening to the original cast recording.
"I'll sit out in the car and just blast it," she said.
Valdes said she thinks people will also enjoy the show's climactic moment, when Carrie unleashes telekinetic destruction on her high school prom.
"The ending is great. I think it'll really chill people," she said. "It's a good show for Halloween, a really good show."
The supernatural aspects of the show give the Croswell's production team a chance to show off their special-effects talents. Parker said the Croswell's take on the final scene is "technically riskier than what they did in New York," and award-winning magician Stuart MacDonald is serving as a consultant to the show.
"Carrie" also features Elizabeth Baugh of Toledo as Carrie's mother, Margaret, and Parker said she "brings a gravity to the part in a very, very difficult role."
"She has to be at once sympathetic and completely, violently crazy," he said.
Teresa Tibbs of Adrian plays Sue Snell, the first character to take pity on Carrie, and Nathan VanAtta of Clinton plays Sue's boyfriend, Tommy Ross, who takes Carrie to the prom. Gretchen Hall of Adrian plays the antagonist, Chris Hargensen, with David Bough of Adrian as her boyfriend, Billy Nolan.
Kyrie Bristle of Saline and Aaron Shown of Adrian play teachers Miss Gardner and Mr. Stephens. Carrie's classmates are Lauren Carlton, Isabella DiPietro, Chase Gatt, Anthony Isom, Cameron Kuhn and Lisa Schrock, all of Adrian; Brittany Essen and Margaret Clark of Blissfield; Joe Weatherwax of Hudson; Aidan Bates and Kayla Henry of Tecumseh; and Matthew Porter of Macomb. Diane DuRussel of Manchester and Gary Lundy and Olivier Brian Miller of Adrian play school employees who fall victim to Carrie's final revenge.
"Carrie, the Musical" plays at 7:30 p.m. Friday, Oct. 17; 7:30 p.m. Saturday, Oct. 18; 2:30 p.m. Sunday, Oct. 19; 7:30 p.m. Friday, Oct. 24; 7:30 p.m. Saturday, Oct. 25; and 2:30 p.m. Sunday, Oct. 26. Tickets range from $15 to $35 depending on seat selection.
The Croswell Opera House is at 129 E. Maumee St., Adrian, MI 49221. To order tickets for "Carrie" or any other production, click here.