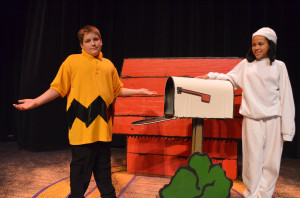 For nearly 50 years, "A Charlie Brown Christmas" has been a staple of the holiday season. The animated TV special, which features the cast of the long-running comic strip "Peanuts" discovering the meaning of Christmas, has been aired every year since 1965.
Now this Christmas favorite has been adapted into a brand-new stage show, which will be produced at the Croswell Opera House in Adrian from Nov. 29 to Dec. 7.
"A Charlie Brown Christmas" is a faithful reproduction of the TV program, which in the five decades since it was released has been watched and loved by millions. The stage adaptation is much newer, however, having been completed in 2013.
"So many people grew up watching this show on TV, and it's wonderful to be able to bring it to the stage," said Jere Righter, the Croswell's artistic director. "Watching Charlie Brown on TV is a special holiday tradition for so many families, and now they can watch it live on stage."
The Croswell's production includes a live jazz trio performing the now-famous score by Vince Guaraldi.
"A lot of theaters don't have live orchestras anymore, but we feel that it really adds a lot to the experience," Righter said. "That way everything you see and hear is being produced live just for you, and it makes the whole thing that much more special."
The TV special "A Charlie Brown Christmas" broke many of the traditional rules for animated holiday specials when it was first made. Only children were cast, breaking with the usual practice of having adults imitate children's voices. Its producer wanted a laugh track, and "Peanuts" creator Charles M. Schulz refused. The producer and director also tried to talk Schulz out of using Biblical references, especially in Linus' speech at the end, but Schulz stood his ground.
The Croswell's production of "A Charlie Brown Christmas" features A.J. McClellan of Adrian in the title role, Payton Perry-Radcliffe of Adrian as Snoopy, and Alexandra June of Adrian as Lucy. Rounding out the all-student cast will be Kyle Haeussler of Tecumseh as Linus, Cole Carrico of Adrian as Pig Pen, Grant Long of Clayton as Shermy, Max McEwan of Blissfield as Schroeder, Maggie Page of Clarklake as Frieda, Emily Kilpatrick of Onsted as Violet, Margaret Watson of Adrian as Sally, Carson Pickles of Jasper as Patty, and Cooper Adams of Adrian as Woodstock.
The chorus will include Caleb Becerra, Natalie Becerra, Brock Boze, Emma Briggs, Olivia Gawron, Sarai Gradeless, A.J. Howard, Abigail Knight, Emma Mehan, Erin Mehan, Victoria Miller and Grace Steinke of Adrian; Flavia Brown of Addison; Emily Auth of Blissfield; James Hallenbeck of Manitou Beach; Julianne Schoonover of Morenci; Halle Bauer of Onsted; and Braeden Haeussler and Jacob Hyre of Tecumseh.
The show will feature a skating rink on stage, plus a guest performance by Kay Anderson, a figure skater who is also a member of the Toledo-area family that founded The Andersons.
Performances of "A Charlie Brown Christmas" are at 5:30 p.m. Saturday, Nov. 29; 2:30 p.m. Sunday, Nov. 30; 6:30 p.m. Friday, Dec. 5; 11:30 a.m. Saturday, Dec. 6; and 5:30 p.m. Sunday, Dec. 7. Running time is about 60 minutes, and tickets range from $10 to $25.
The Croswell is at 129 E. Maumee St. in Adrian. For more information, call 517-264-7469 (264-SHOW) or visit croswell.org.