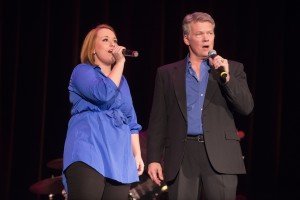 "The Croswell Christmas Spectacular," a holiday-themed musical revue, will be staged in December at the Croswell Opera House in downtown Adrian.
"The Croswell Christmas Spectacular" will be one of the Croswell's largest shows of the year and will feature a selection of holiday favorites. The lineup includes traditional Christmas carols, a high-energy of Handel's "Messiah," and selections from a variety of Christmas movies and musicals, including "White Christmas," "Miracle on 34th Street," "Polar Express" and "How the Grinch Stole Christmas."
"It's everything you want in a Christmas show and more," said Betsy Lackey, the show's director, who is also writing and orchestrating the show along with her husband, master of ceremonies Michael Lackey, and music director Dave Rains.
The cast of nearly 50 singers and dancers includes Jessica Adams, Brock Boze, Davante Buie, Alex Drews, Noelle Drews, Dominic Duncan, Jessica Ellis, Halle Horwath, Lauren Howard, Alison Hunt, Anthony Isom, Julie Lugo, Brittani McComb, Arielle Osstifin, Wesley Richard, Hannah Rowe, Barb Vaught and Rick Vaught, all of Adrian; Madeline Auth of Blissfield; Becca Nowak and Joe Nowak of Britton; Devyn Salter of Brooklyn; Taegan Long of Clayton; Joyce Lancaster of Clinton; Rachel Oldfield of Hudson; Ashlee Pelham and Ashlyn Slaviero of Onsted; Robert Yoman of Petersburg; Cordell Smith of Riga; Chloe Danley, Jayden Donaghy, Robin Donaghy, Kayla Henry, Ben Hyre, Margaret Hyre, Mark Hyre, Meg McNamee, Sarah Nowak, Virginia Rawlings and George Reasoner, all of Tecumseh; Elizabeth Baugh and Phillip Baugh of Toledo; and Libby Edwards of Sylvania, Ohio.
Performances of "The Croswell Christmas Spectacular" are at 7:30 p.m. Saturday, Dec. 6; 2:30 p.m. Sunday, Dec. 7; 7:30 p.m. Friday, Dec. 12; 2:30 and 7:30 p.m. Saturday, Dec. 13; and 2:30 p.m. Sunday, Dec. 14. Ticket prices range from $15 to $35.
The Croswell is at 129 E. Maumee St. in Adrian. For more information, call 517-264-7469 (264-SHOW) or visit croswell.org.