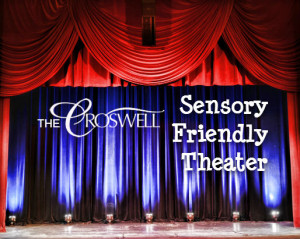 For children with sensory sensitivity — a group that includes many kids who are on the autism spectrum — attending a live theater production can be a minefield of potential issues. From unexpected sounds to an unfamiliar setting, the experience can easily become overwhelming.
To address those problems and make theater accessible to more families, the Croswell Opera House in downtown Adrian is staging a special sensory-friendly production of "The Cat in the Hat" at 2:30 p.m. Sunday, March 1. The adapted version will be the final production of the show's two-weekend run.
"At the Croswell, we feel live theater is an amazing, life-changing experience that every child should be able to have," said Jere Righter, the Croswell's artistic director. "We know there are a lot of kids who might not normally be able to enjoy a show here because of sensory processing issues, and we want to make the experience accessible to them as well."
The modifications involved in a sensory-friendly production include:
Minimizing any potentially startling sound and lighting effects, as well as providing a visual warning before they occur.
Keeping the house lights partially on during the performance instead of dimming them all the way.
Offering "buffer seats" between groups to ensure that children have enough personal space.
Providing a quiet "chill-out space" outside the auditorium for children who become overstimulated and need to take a break.
Producing a booklet describing the theater experience that parents can use to familiarize their children with the environment before the show.
Offering families the opportunity to visit the theater beforehand and see their seats.
Ensuring a judgment-free environment where children can feel free to vocalize or move around the theater if they need to.
The Croswell will be open from 3 to 7 p.m. Thursday, Feb. 26, for the "Meet Your Seat" opportunity.
The Croswell has been working with educators at the Lenawee Intermediate School District to develop the production.
Peggy Papenhagen, a physical therapist at the LISD and the parent of a child with autism, said it's easy for children with sensory processing issues to become overwhelmed by too many sights and sounds, which is the reason for diminishing any potentially startling effects. They can also have trouble adjusting to changes in their routine, so one-time events are easier for them to handle when they know exactly what to expect.
"A lot of kids really benefit from that preparation," she said. "They know where they're going, they know what it looks like, they know what their seat will look like."
The "buffer seats" can help children who need a lot of personal space. "A lot of kids who are on the spectrum or have sensory issues don't want someone in their space," Papenhagen explained.
Because children with autism-spectrum disorders or sensory processing issues can react in unpredictable ways, sometimes with verbal or physical outbursts, Papenhagen said bringing them to a sensory-friendly production creates fewer worries for parents who might otherwise be concerned about disrupting other patrons.
"A lot of the pressure is off," she said. "You can make the goal for your child to enjoy the show, instead of the goal being to keep them quiet for everyone else."
Autism-spectrum disorders affect an estimated 1 in 88 children, but Righter said there are many more people who could benefit from a sensory-friendly production, including very young children and anyone with sensory processing issues of any kind.
"And because it's still the same show," Righter added, "there's really no reason this production can't be enjoyed by everyone."
Julianne Dolan, the show's director, said the Croswell believes in "arts for all."
"We want to make sure that we can bring the joy of theater to all children," she said.
Information about sensory-friendly theater at the Croswell can be found at croswell.org/sensory.