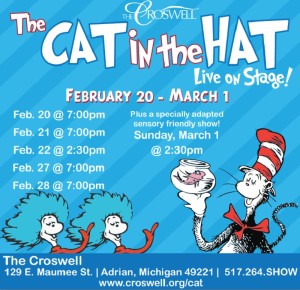 Everyone's favorite mischievous feline will come to life this month when the Croswell Opera House in Adrian produces the live-stage adaptation of Dr. Seuss' "The Cat in the Hat."
The show opens Feb. 20 and runs for two weekends, including a specially adapted sensory-friendly performance on March 1. It stars Tara Ann Althaus of Temperance, a Bedford High School graduate and a former Miss Monroe County, as the Cat. The narrator will be former state representative and WLEN radio host Doug Spade.
Director Julianne Dolan said the script is word-for-word the same as the classic children's book, with all of the illustrations translated into movement and sound.
"It is exactly the book, come to life, and that's what's great fun," she said.
While the words in the story are simple, the process of putting it on stage is anything but. A team of volunteers is working to build the more than 50 fantastical props required to bring the cat's antics to life, from the birthday cake he balances on his hat to the machine he uses to clean up his mischief. The fish in the pot is a puppet operated by an actor, and a movement coach will work with the entire cast to create a smooth and fast-paced performance that lives up to the high energy of the book.
"We're going to make the story come to life," Dolan said. "All of the storytelling will be big and fun and just what our imaginations see when we read the book."
"The Cat in the Hat" runs for two weekends beginning Feb. 20, with Friday and Saturday performances at 7 p.m. and Sunday performances at 2:30 p.m. Tickets range from $10 to $25.
The Croswell is at 129 E. Maumee St. in downtown Adrian. For more information, visit croswell.org/cat or call 517-264-7469.