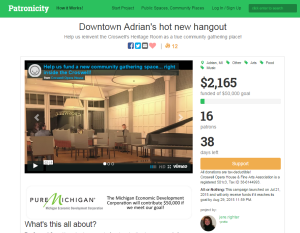 A crowdfunding campaign launched July 22 will give the Croswell Opera House a chance to win $50,000 in matching funds from the state of Michigan — if the theater can raise an equal amount from supporters by Aug. 29.
The campaign will support the transformation of the Croswell's Heritage Room into a new community gathering space.
The campaign, which can be found at patronicity.com/Croswell, is an all-or-nothing challenge, meaning that no money at all will be collected unless the effort reaches its $50,000 goal.
"We are pleased to partner in this effort to refurbish the Croswell and help create a new destination in downtown Adrian," said Katherine Czarnecki, community development director for the Michigan Economic Development Corp. "This project has the potential to be a real catalyst and attract patrons to other downtown businesses and venues."
The project is part of the Croswell's larger renovation campaign for the entire theater, which was announced in June.
Croswell artistic director Jere Righter said the Heritage Room, just off the Croswell's main lobby, will be expanded and renovated into a comfortable lounge space where people can gather for entertainment, food, drink and conversation. The new space will be built out to the front of the building to accommodate more people and let in natural light.
Events that could be held in the new space include open mic nights, poetry slams, food or drink tastings, trivia nights, improv performances, bingo nights, paint-and-pour art classes, and more.
"The sky really is the limit," Righter said.
The matching funds are available through the Public Spaces Community Places program, which is a collaborative effort between the MEDC, the Michigan Municipal League, and Patronicity, a Michigan-based tech startup. The program lets people use crowdfunding to help projects in their communities and secure matching funds from the state.
"This is a great opportunity because every dollar you donate will be matched 100 percent," Righter said. "And on top of that, it gives us a chance to show just how many people in this community love and support the Croswell."
Last year, the Patronicity platform was successfully used by a group of Adrian-area citizens to secure a $25,000 matching grant for the Ted Durst Kiwanis Gateway Park.
For more information or to donate to the crowdfunding campaign, go to patronicity.com/Croswell. For more information about the Croswell's renovation campaign, call 517-263-6868 or go to campaignforthecroswell.org.