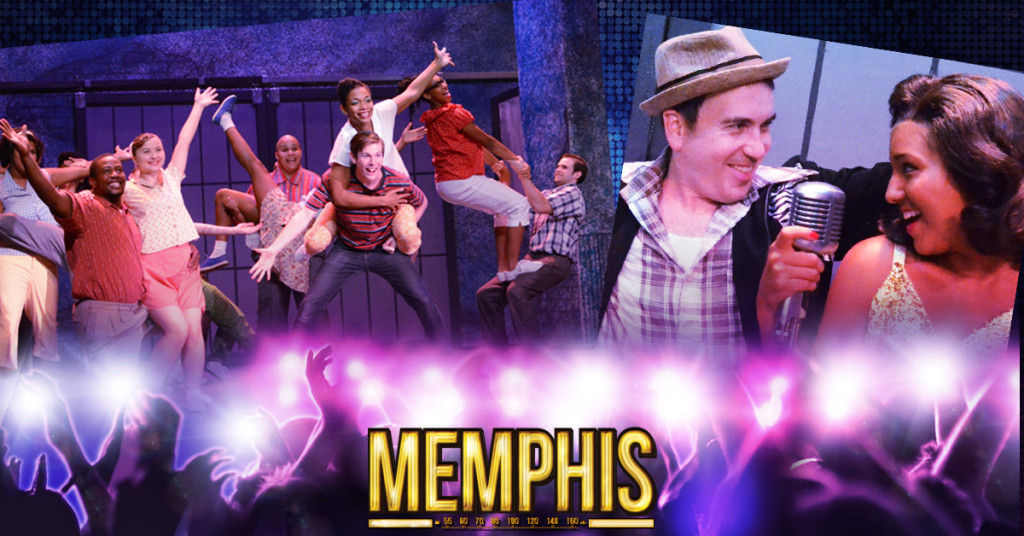 The musical "Memphis," a rock 'n' roll love story set in 1950s Tennessee, will hit the stage at the Croswell Opera House in Adrian starting Aug. 14.
"It's high-powered from the first note," director Deb Calabrese said of the show, which won four Tony Awards when it opened on Broadway in 2009 and was nominated for four more.
Memphis tells the story of a Huey Calhoun, a white radio DJ in the segregation era, who falls in love with a talented young black singer named Felicia Farrell.
"It's a love story," Calabrese said, "but it's not only a love story between a man and a woman, it's a love story between a person and their love for music."
The character of Huey Calhoun is loosely based on the real-life radio personality Dewey Phillips, who was one of the first DJs to play African-American rhythm and blues for white audiences. In the Croswell's production, Huey is played by Dan Clair of Canton.
Clair first saw "Memphis" when the first national tour came through Detroit. "I fell in love with the music and then with the storyline itself," he said.
An engineer by trade, Clair also owns a dance studio, Lighthouse Dance Company in Luna Pier, with his wife, Delle. His previous credits include Clyde in Ann Arbor Civic Theatre's "Bonnie and Clyde," the title role in Monroe Community Players' "Joseph and the Amazing Technicolor Dreamcoat," Claude in "Hair" at St. Dunstan's Theatre in Bloomfield Hills, and Bobby Strong in "Urinetown" with the Avon Players in Rochester Hills.
Felicia Farrell is played by Tatiana Owens, a Toledo native who moved to New York in 2010 to pursue her singing career. She returned home to take on the role of Felicia, after being last seen on the Croswell stage in 2010's "A Chorus Line."
Owens said the story is powerful and emotional, and so is the music, which runs the gamut of musical styles.
"It's soulful, jazzy, bluesy and rocky," Owens said.
Owens began making a name for herself as early as elementary school, when Toledo Mud Hens fans came to know her as "the little girl with the big voice." She was introduced to musical theater as a student at the Toledo School for the Arts, where Calabrese was one of her teachers.  Since moving to New York, Owens has released her own EP, "Colorful," and had her music featured everywhere from VH1's "Love and Hip Hop" to ABC Family's "Becoming Us."
Derrick Jordan of Toledo plays Felicia's protective older brother, Delray, and Lydia Schafer of Toledo plays Huey's mother, Gladys. Anthony Isom of Adrian plays Gator, a character who was traumatized into silence by seeing his father lynched when he was a child, but rediscovers his voice over the course of the show. And Dom Glover of Toledo plays Bobby, a radio station janitor who turns out to have hidden talents.
Rounding out the cast are Davante Buie, Brian Crawford, Debbie Corbin, Alex Drews, Noelle Drews, Jasmine Jones, Justin Kohlruss, Payton Perry-Radcliffe, Darius Savage and Janelle Woods, all of Adrian; Chloe Danley and Sarah Nowak of Tecumseh; Ron Baumanis of Ann Arbor; Logan Balcom of Hillsdale; Melissa Paschall of Jackson; John Bacarella of Monroe; Kaleb Kimerer of Saline; Franny Kromminga of Muskegon; Dale White of Nashville; Charles Waters of Holland, Ohio; Joseph Ball of Perrysburg, Ohio; Brandon Allen, Zahra Aprili, Davion T. Brown, Anntalaija Cobble, Sabriyah Davis, Kenni T. Green, India Symone Hart, Diamond Haynes, Scott A. Heuerman, Morgan McConnell and Michael Rywalski, all of Toledo; and Meg Grezak of Sylvania.
Calabrese worked with Touch A Dream Dance Studio in Toledo to round out the ensemble for the show's powerful and technically demanding dance numbers.
Calabrese said "Memphis" is a show with a lot of substance, but also a catchy, toe-tapping set of songs.
"You'll walk out with a smile on your face and humming the tunes," she said.
"Memphis" opens Aug. 14 and runs for two weekends, with Friday and Saturday shows at 8 p.m. and Sunday shows at 2:30 p.m.
The Croswell is at 129 E. Maumee St. in downtown Adrian. Tickets range from $15 to $35 and can be purchased online at croswell.org or by calling 517-264-7469.
If you go…
What: "Memphis"
Where: The Croswell Opera House, 129 E. Maumee St., Adrian
When: Aug. 14-16 and 21-23, with Friday and Saturday shows at 8 p.m. and Sunday shows at 2:30 p.m.
Admission: $15 to $35
More info: croswell.org or 517-264-7469