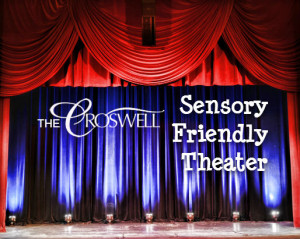 The Croswell Opera House is pleased to present a special sensory-friendly performance of Beauty and the Beast at 2:30 p.m. Saturday, September 23.
We know that for children with sensory sensitivity — a group that includes many kids who are on the autism spectrum — attending a live theater production can be a minefield of potential issues. From unexpected sounds to an unfamiliar setting, the experience can easily become overwhelming. We hope this production, which is the second show in our two-weekend run of this classic musical, will make the live theater experience accessible to more children and families.
What does a sensory-friendly production look like?
Here are some of the modifications we'll be making to the performance and to the theater environment for this production:
Minimizing any potentially startling sound and lighting effects, as well as providing a visual warning before they occur.
Keeping the house lights partially on during the performance instead of dimming them all the way.
Offering "buffer seats" between groups to ensure that children have enough personal space.
Providing a quiet "chill-out space" outside the auditorium for children who become overstimulated and need to take a break.
Offering families the opportunity to visit the theater beforehand and see their seats.
Ensuring a judgment-free environment where children can feel free to vocalize or move around the theater if they need to.
More information about sensory-friendly theater
About past sensory-friendly productions at the Croswell